In the fuzzy world between sleeping and waking this morning, I tried to figure out what month it is. My not quite fully conscious brain tried on different months for size, trying to determine which one fit, trying to make sense of the seemingly simple question, "What month is it?"
Recently, my husband and I had a full blown conversation over whether it was Monday or Tuesday. A colleague and I are trying to read a book about Theology of the Body. Do you think we can both remember our Zoom call on the same day? Not likely. And whatever you need me to do, if I don't write it down, it isn't going to happen. List making is now a full-time occupation.
One of my summer joys is journal writing. Someplace in the middle of the school year, my daily writing habit gets left behind in an effort to get 20 minutes more sleep. This summer, my journal languishes beside my favorite chair, neglected. I tell myself what I tell my students, just write. It doesn't matter what you say. It doesn't matter if you just tell the page over and over that you don't know what to write. Just write.
Yet, this summer, in spite of my many to-do lists, my journal has only sporadic entries. My thinking which under normal circumstances is clarified by talking, by writing, by using my words, just isn't. And maybe, that is the problem, my thinking, what am I supposed to think? Our world is in the midst of a pandemic. This is the stuff of movies with doctors who save the day in under two hours, not the stuff of neverending Tuesdays in June.
Then there are shootings and protests, people looting and more shootings and people dying in our streets. We are facing the reality that our country founded on "all men are created equal" is not what we thought it was. There is the economy and dealing with hamburg which has tripled in price while our income hasn't. Then feeling guilty because I am worried about the cost of hamburg when someone else has lost a father, brother, son. We are in a time of radical change in our country, much needed change but change that will only come through upheaval and tearing down and building new. Change is hard. So much change makes remembering the daily details difficult.
I pray daily to do what God wills with my life but I seem to be stuck in a time of relative inaction. The news is full of people who are demonstrating, who are making a difference and I am finding it hard to even pray regularly. My prayers often end up as a repeated plea, "What do I do, Lord?"
That is where I meet the Holy Family in today's Gospel. This is a favorite Gospel story because I can vividly imagine Mary and Joseph as they realize Jesus isn't in the family caravan. I know that heart-stopping feeling of finding out that all is not as you thought it was. I try to picture their hurried journey back to the city to look for Jesus. I know that tight feeling in the chest as you retrace your steps hoping against hope that your worst fears aren't about to come true. I see them in my mind's eye walking through the temple and seeing Jesus talking. They hesitate for a moment and listen to their son talking to men in the temple before he looks up and smiles at them, Mary says, "Son…" and Jesus replies, "Why were you looking for me? Did you not know that I must be in my Father's house?"
"But they did not understand what he said to them. He went down with them and came to Nazareth, and was obedient to them, and his mother kept all these things in her heart."
Perhaps, for me, this is not a time for grand action, but for quiet humility and obedience. Mary had been told who her son was, but she didn't go shouting it from the rooftops. She waits for God's time. Jesus was obedient. Mary kept these things in her heart. Maybe that's it. In this time of upheaval and change and lost footing and no writing, I am to follow Jesus's example and be humble, learning from others. Follow Mary's example and keep these things in my heart. Just maybe God is preparing my heart for what comes next; my heart of stone to be broken and replaced with his own loving heart.
So for now, I need to:
Keep one foot in front of the other.
Pray the prayers.
Take care of those near me.
Attend Mass as often as possible.
Go to Adoration and pray at the feet of Jesus.
For goodness sake, limit social media.
Do the next right thing.
My time for action will come and I will need to be ready. But it is God's time, not mine. For now, I will be obedient. I will love each person I meet. I will hold all this in my heart, so when it's His time, I will be ready.
Wherever God is calling you during this turbulent time, may you find the peace that comes not from this world, but only by living for the next.
May God bless you. Whatever month it is.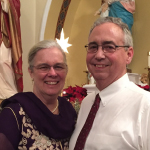 Sheryl delights in being the number 1 cheerleader and supporter for her husband, Tom who is a candidate for the Permanent Diaconate in the Diocese of Kalamazoo. They are so grateful for the opportunity to grow together in this process whether it is studying for classes, deepening their prayer life or discovering new ways to serve together. Sheryl's day job is serving her community as the principal for St. Therese Catholic School in Wayland, Michigan. Since every time she thinks she gets life all figured out, she realizes just how far she has to go, St. Rita of Cascia is her go-to Saint for intercession and help. Home includes Brea, a Bernese Mountain dog and Carlyn, a very, very goofy Golden Retriever.