One of the gifts of middle age (there has to be some compensation for entering the heavy-maintenance years, after all!) is the gift of perspective. My needs and wants—and the ability to discern which is which—have shifted, and I've become wiser about them and the place they have in my life.
I've never been exactly a fashionista, but all the same when I moved to a smaller home and had to do some thinning-out of my possessions, I was shocked at how many articles of clothing I owned. Four green sweaters, really? Five different pairs of boots? Or let's talk about books: do I really need to own every single book I've ever read and loved? How about the kitchen: when was the last time I used those three different appliances that all do the same thing?
That voice of wisdom was one of the voices inside my head. But there was another voice, too, one that was running scared: what will I do without them? Who will I be without these things? I felt that somehow there was some security in ownership, that the mere fact of having these possessions rooted and grounded me. For a long time those two voices were warring inside me. It was a dialogue, but I wasn't ever sure exactly which side was winning.
And that brings us to today's readings. Whenever I read the Old Testament in general, honestly, it's sometimes with a little scorn. What was it with these Israelites, anyway, that they were always turning from God to worship at some other altar? A gold calf? What's that about? It always seemed so far removed from my own experience that I put it down to cultural differences and moved on.
Not a good idea.
In today's first reading, we open with a confrontation: King Ahab of Israel has murdered a fellow called Naboth and taken possession of Naboth's vineyard, and the prophet Elijah comes to tell the king that God is unhappy with the situation. Ahab has become "completely abominable by following idols."
I've studied enough history to know that in many—if not most—ancient cultures, what Ahab did wasn't out of the ordinary. You kill someone, you get their stuff. But as God continued to gradually reveal himself through time, his people were slowly coming around to deeper and more complex concepts of justice and fairness. This wasn't about the way things have always been done; this was about finding a new way, a way where you can't just kill someone and take what they have. It's still an ideal that isn't always followed.
Ahab, we note, also followed idols. We're not told which kind, we're just told it was wrong. God had to come first.
I'm not substituting my possessions for idols here; obviously I never believed any of my green sweaters was more important than God. But in feeling I had the right to ownership of all these things, in letting myself be in some obscure way be defined by what I owned, wasn't I in a way worshipping myself? Saying my needs, my security, my tastes come first?
I'm starting to think so.
The Bible is the story of God gradually revealing himself to his people—we see more and more of him through his encounters with Noah, with Abraham, with Moses, on up through his most complete revelation of himself in Christ. And in today's Gospel, Jesus seizes on this revelation of a new way of thinking, a new way of being, when he says, it's not enough to love people who love you back, it's not enough to love people who are just like you. You have to love everybody. You have the love the people you feel at home with and the people who challenge your comfort levels. All of them, all the time.
In the past weeks, we've all been challenged. By people who think and feel and look different from us. These times have made us confront and question our own beliefs and assumptions. We're getting into passionate conversations about everything from whether or not to wear a mask in public to whether every person, regardless of the color of their skin, should have the same rights. And I can hear Jesus, standing next to me when I get into an argument with someone whose opinion doesn't coincide with mine: this is the person you are called to love.
This is the person I am called to love.
I managed in the end to sort through my stuff. I ended up giving most of it away. These days I live in a cottage that measures 317 square feet, and I inhabit it comfortably. I'm learning that there's no security in ownership, whether it's of possessions or a false sense of privilege.
And, every day, I'm praying to grow in love… of everyone.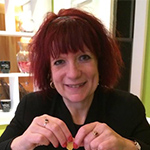 Jeannette de Beauvoir is a writer and editor with the digital department of Pauline Books & Media, working on projects as disparate as newsletters, book clubs, ebooks, and retreats that support the apostolate of the Daughters of St. Paul at http://www.pauline.org.