This past weekend we were blessed to have a house guest. A close friend from down south came to visit. While he was here we drove around quite a bit, ate some good food, and visited my parents. My brother and his family were also there and my niece and I got to talking about how differently we treat different people. She had felt the need to apologize for speaking somewhat harshly to me the week before because she thought I was one of her siblings. So I asked her somewhat sarcastically "Ah, so you're saying that's the way you talk to your siblings?"
And then it was like the wind came right back my way to slap me in the face as I thought about how we were entertaining our house guest. Why is it that I talk nicer to those who are visitors, and not necessarily those I share the same roof with? Why is it that I have more patience with my kids and speak more gently to them when someone else is around? Am I using the guise of hospitality? Am I trying to keep up appearances out of pride? Why DO I raise my voice with my kids so often anyway?
Once again the Psalm calls me to invoke my God:
Hearken to my words, O LORD,
attend to my sighing.
Heed my call for help,
my king and my God!
At dawn I bring my plea expectantly before you.
For you, O God, delight not in wickedness;
no evil man remains with you;
the arrogant may not stand in your sight.
You hate all evildoers.
You destroy all who speak falsehood. (Psalm 5)
By speaking differently to different people, am I really speaking falsehood? Am I being arrogant in your sight? If I desire to show hospitality to one person, why should I not want to show it to all, especially my own flesh and blood, those who I have conceived and birthed? I have got to stop the hypocrisy. But more earnestly, I have got to start treating those I love with more love.
May the Lord bless us and keep us this day. May He show us the way. May He steer our hearts, minds, words, and actions. May He continue to send us little reminders, like the conversation with my niece, to make us think and redirect our path to conform more to His. Amen.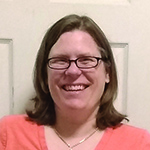 Tami grew up in Western Michigan, a middle child in a large Catholic family. She spent early young adulthood as a missionary in Mexico, studying theology and philosophy, then worked and traveled extensively before finishing her Bachelor's Degree in Western Kentucky. She loves tackling home improvement projects, finding fun ways to keep her four boys occupied, quiet conversation with the hubby and finding unique ways to love. She works at Diocesan, is a guest blogger on CatholicMom.com and BlessedIsShe.net, runs her own blog at https://togetherandalways.wordpress.com and has been doing Spanish translations on the side for almost 20 years.