When I was in High School I did tech for a production of the musical, Cinderella. One of my favorite songs, that I still sing from time to time, is the song where the fairy godmother tries to convince Cinderella that she can do the impossible. This makes sense to us who know the story but put yourself in Cinderella's shoes. An old woman appears out of nowhere and claims that she can fix all life's problems. That's a hard thing to believe, but she came to believe because of who the fairy godmother was.
Now, of course, it isn't actually possible for a plain yellow pumpkin to become a golden carriage, unless it's in the imagination, but the message is that Cinderella should trust the fairy godmother because she shows she can do exactly what she says and who she is.
Fast forward to today, the Feast of Corpus Christi. How many times have we said that Jesus being fully present in the Eucharist is impossible? It's a hard thing to believe. It's difficult because we continue to see bread and wine and most of what we come to believe is what we can see.
But let's look at the example from Cinderella, she believed not just because of what she saw, but because of who the fairy godmother was. It's the same with God. If we put the Eucharist in context with what everything Jesus has done for us, then it should make total sense. It's possible for the God of the universe to become a little baby. It's possible for this little child to be the long-awaited savior of the entire world. It's possible for this person to walk on the earth performing miracles and casting out demons. It's possible for Jesus to give up his whole life and die the most gruesome death so we may one day be happy for him. But bread and wine turning into his body and blood? Impossible.
See the problem here? Jesus has literally proven who he is and what he can do. He has proven his love. He has time and again proven that he is God, and yet, we don't believe he can somehow remain with us, even though he told us he would? I think the most striking evidence for the Eucharist is that Jesus is God and he said, "This is my body, this is my blood." We may not fully understand it, but we aren't God. He has got this figured out.
If we are to understand how to be Christian, let's ask God for the faith to see him in the Eucharist, for as the Catechism says, "The Eucharist is 'the source and summit of the Christian life.'"
Happy Feast of Corpus Christi and may the precious Body and Blood of our Lord Jesus Christ bless you today and always.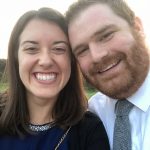 Tommy Shultz is Director of Evangelization for the North Allegan Catholic Collaborative and the founder of Rodzinka Ministries. In these roles, he is committed to bringing all those he meets into a deeper relationship with Christ. Tommy has a heart and a flair for inspiring people to live their faith every day. He has worked in various youth ministry, adult ministry, and diocesan roles. He has been a featured speaker at retreats and events across the country. His mission and drive have been especially inspired by St. John Paul II's teachings. Tommy is blessed to be able to learn from the numerous parishes he visits and pass that experience on in his presentations. With a degree in Theology from Franciscan University, Tommy hopes to use his knowledge to help all people understand the beauty of The Faith.