So why does the Church celebrate a specific day for the Trinity? If only we knew: this aspect, this reality, of our God is so vital to our identity!
In Genesis 1:26, God says "Let us make man in our image, in our likeness…". If you look back through the chapter, God doesn't say that about any other creation. We're unique! But what exactly does it mean to be made after God's image and likeness? We don't get a clear understanding of this until much later in the Bible. Jesus, the perfect revelation of God, reveals the truth: God is actually an eternal relationship in the persons of the Trinity. And even before we knew this about Him, we were made in that image, and thus made for relationship!
The three persons of God are themselves familial terms: Father, Son, and Spirit. God the Father's nature is that of self-gift (aka Love), which finds its perfect expression in pouring into another perfect person, God the Son. The Son perfectly reciprocates that love back to the Father. The power and bond that is formed is the Holy Spirit himself! The third person of the trinity is called a "spiration" (sounds like Spirit, eh?) of the love of the Father and the Son. Without getting too heady, all this to say that God's love is not just some flat emotion, but an intricate action that comes from his very being!
From this eternal love, we were made! And we were made to be just like it! God formed woman from the man because he saw that man on his own was lacking something from God's nature – relationship! And in the full union and self-gift between man and woman, love creates a third person as well – a new child. Our families are an expression of the Trinity! But even beyond marriage, all of us are called to be in relationship – vulnerability, journeying together, caring for each other, laughing together. All of those are also truly a spiration of love.
In today's gospel, we read that God doesn't keep this love within Himself. Rather He gave His Son to us, to be given up for us, because of our fallen nature. And the Son accepts this task from the Father and gives up his life. But he is raised and ascends back to His Father's place and given the throne of glory. When they send forth the Spirit, we join in the divine romance. We become inheritors of the divine by joining the divine family! The mystery of the triune God is something that draws us deeper into seeking Him.
So we praise God for who He is: Three persons in One. And how He uses this aspect of His nature to connect with us as humanity and pull us into divinity. Maybe something we can learn from this celebration is to remember that we were made for relationship. Let's not sabotage our friendships and families – may we always be bridges of peace. Let's stay connected with those close to us, especially in this isolation during the pandemic. Let's remember that we're all in this life together – all of us created in the image and likeness of God. We stand together beyond skin color, economic status, or belief.
Songs for reflection:
Holy, Holy, Holy – Audrey Assad
This I Believe (The Creed) – Hillsong Worship
King of Kings – Hillsong Worship
Divine / Sailing / Time / Hymn – Phil Wickham
I Exalt Thee – Jesus Culture
Doxology / Amen – Phil Wickham
O Praise the Name (Anastasis) – Hillsong Worship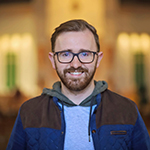 Brendan is just your average Millennial hipster: He likes playing guitar, throwing frisbees, sipping whiskey, and grooming his beard. But he also has a passion for walking with teens and young Christ-followers, hearing every person's story, and waking up the Church. Brendan works at Holy Trinity Catholic Church in Lenexa, Kansas (near Kansas City) as a Youth Music Minister, fusing together his two loves of sharing Christ and sharing the power and need for good and beautiful contemporary praise. https://www.instagram.com/brendanbeardo/