I love to cook and host people. I think it comes from my family. My house growing up was always a welcome place for people. Parties, barbecue, food, friends, fellowship, endless rounds of euchre, great conversation, bonfires, just the type of gatherings that make you feel good.
I have seen in my parents how they allow people to share in their sacrament of marriage. Each time they reach out, serve, help, cook, or host, they are extending their sacrament to others in a beautiful way. The love they share together overflows to those around them and you can't help but feel like you are home.
My wife, Nathalie, and I try to emulate this in our own marriage as well. We want to invite people in, help when we can, reach out to the community, serve the Church, help the less fortunate, and invite people into the love that we share.
We have all heard that the trinity is similar to a marriage. God the Father loves the Son and the Son loves the Father and their love is so real it is the Holy Spirit. Similar to a husband and wife and their love becomes a new child. We have heard this but have we let it sink in? Especially in relation to allowing others to share in the love of the sacrament of marriage?
In the Gospel today we hear over and over that the Father and Son are one and that they desire to bring all people into their love, which is the Holy Spirit. The Catechism of the Catholic Church 221 tells us that, "God himself is an eternal exchange of love, Father, Son, and Holy Spirit, and he has destined us to share in that exchange."
How does God invite people into his love? One of the ways is through our genuine relationships. When my wife and I love each other like Christ, and we invite people into our home, conversation, life, and love, people can experience the love of God through us.
This is what Christ wants, for us to be walking beacons of his love here on this earth and for us to invite all people into the love of the Trinity, for which we are all destined. The hard part of this is do we do it? Do we actually reach out to people and help them experience God's love here on this earth. If not, why not? That's the question we need to ask today. My wife and I should ask it every day.
It would be very upsetting to get to heaven and realize that we forgot to bring anyone with us. Let's make that a priority today. God Bless!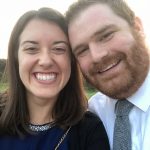 Tommy Shultz is Director of Evangelization for the North Allegan Catholic Collaborative and the founder of Rodzinka Ministries. In these roles, he is committed to bringing all those he meets into a deeper relationship with Christ. Tommy has a heart and a flair for inspiring people to live their faith every day. He has worked in various youth ministry, adult ministry, and diocesan roles. He has been a featured speaker at retreats and events across the country. His mission and drive have been especially inspired by St. John Paul II's teachings. Tommy is blessed to be able to learn from the numerous parishes he visits and pass that experience on in his presentations. With a degree in Theology from Franciscan University, Tommy hopes to use his knowledge to help all people understand the beauty of The Faith.