St. Philip Neri: priest; missionary; founder of the Congregation of the Oratory, a community of Catholic priests and lay brothers. Known for his knack to engage people in conversation, which, in turn, would lead people to Jesus, and charitable work for the sick and the poor. He was born in 1515; he died in 1595.
Fast forward to 2020.
Have you paid attention to the human-interest stories of late? Stories about surviving COVID; stories of neighbor helping neighbor; stories of first responders; stories of nurses and doctors battling this virus, amidst many obstacles; stories of recovered patients donating their blood. So many stories, so much faith.
St. Paul traveled all over his known world, preaching the gospel of Jesus. He did his best. He didn't look back to those who would not listen, because he did his best. Paul's message was delivered with conviction and joy. He evangelized, as did Philip Neri.
Are you, today, recognizing Evangelization? In most of the stories I listed above, have you noticed one thing in common? Almost all of those involved thank God, thank Jesus, credit their survival, hard work, care, and love of one another to their faith. "God was with us," "God will see us through," "I get strength from Jesus," "I couldn't carry on without my faith." These are just a few of the ways that these folks express their faith.
I believe they are all sincere. I choose to believe that not one of these folks is "just saying it" because it seems like the right thing to do. They are evangelizing, without the benefit of a pulpit.
Can we do the same? When all this has passed away, will OUR faith endure?
God Bless.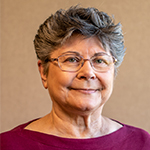 Jeanne Penoyar, an Accounts Manager at Diocesan, is a Lector at St. Anthony of Padua parish in Grand Rapids, MI. Jeanne has worked in parish ministry as an RCIA director, in Liturgy, and as a Cantor. Working word puzzles and reading fill her spare time. Jeanne can be reached at jpenoyar@diocesan.com.