Both readings for today urge us to have hope in the presence of Christ. In the first reading, we hear of St. Paul's experience in Corinth. He is confronted with persecution but is able to persevere because of the faith and hope he places in God's presence: "Do not be afraid. Go on speaking, and do not be silent, for I am with you." In hearing the words of God, St. Paul is emboldened to continue preaching the Gospel despite what hardships may befall him. In a homily from 2014, Pope Francis described St. Paul as a "very courageous man" and encouraged us to follow the example of St. Paul. We, like St. Paul, experience fear, pain, and suffering and sometimes that causes us to question our faith or to ask God why. Why me? Why this feeling? Why do I have to suffer? I suppose the answer to those questions is joy. We experience fear and pain and suffering so that we can encounter true joy. Christ in His passion showed us that in order for us to be redeemed, we must first carry a cross. He carried His own cross so that we might enter into eternal life with Him, but in doing so, He also called us on to live a Christian life. The Christian life is not easy, nor is it meant to be, but the reward is the fulfillment of our greatest desire.
In the Gospel, Christ tells the disciples exactly that; they will feel great sorrow when He leaves them, but the joy they feel in the Resurrection cannot be taken from them. I think it is also important to note that this sorrow the disciples will feel when they are separated from Christ is the same sorrow that we experience when we are away from the Sacraments, especially that of Confession. We need Christ in our everyday lives. We need His love and His forgiveness if we want to enter into eternal life with him. At this time, I know it feels difficult to participate in the Sacraments, but Christ suffered for us so that we may place our hope in His Resurrection. As Christ said to His disciples, "…you will weep and mourn, while the world rejoices; you will grieve but your grief will become joy…But I will see you again, and your hearts will rejoice, and no one will take your joy away from you".
May we continue to hope in Christ and His Resurrection!
St. Rita, pray for us!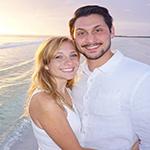 Dakota currently lives in Denver, CO and teaches English Language Development and Spanish to high schoolers. She is married to the love of her life, Ralph. In her spare time, she reads, goes to breweries, and watches baseball. Dakota's favorite saints are St. John Paul II (how could it not be?) and St. José Luis Sánchez del Río. She is passionate about her faith and considers herself blessed at any opportunity to share that faith with others. Check out more of her writing at https://dakotaleonard16.blogspot.com.