Each of us has a purpose, a role to play in building God's kingdom. That purpose, that role is so unique, that no one else in the history of humankind, no else who is ever to be born, can fulfill your role just as no one else can fulfill my role.
That means that we, yes, you and me, we were born for this time. We were created to live here and now in the midst of all this craziness and sickness and suffering and politics and whatever else is going on in the world. We were literally born for this.
It also means that my role isn't the same as your role. So whatever your role is right now, well done! You may be a mom or dad holding it together while spending 24/7 with those little creatures who want to eat constantly, need to learn, and are constantly picking on their siblings and pushing your buttons. You may be someone who is socially isolated by health or age or other circumstances and have more time on your hands than you ever dreamed possible and are struggling with loneliness. You may be working and struggling with fear and awkwardness at the new social norms. You may be leading your family or a business or a faith community and feeling unsure of what to do next or where you want to be, much less taking responsibility for anyone else. There are a gazillion more maybes, and one of them is yours.
But whatever our roles are, today's readings make abundantly clear what we have in common. We are to "sanctify Christ as Lord" in our hearts. We are to love God and keep his commandments. What is the greatest commandment? To love the Lord your God with all your heart and all your mind and all your soul and then to love your neighbor as yourself. I have heard it said that when we truly love God first, we just naturally demonstrate that love through our neighbors.
It is time to get creative and find new ways of loving.
A friend of mine has taken to visiting care facilities with her blind dog, Booker (there is a whole 'nother great story there!) to help people celebrate birthdays. They show up with a sign and hats and wave through the window and help people who are so incredibly isolated know that they are loved and remembered. We need to follow her example and think outside of the box for new ways to reach out. Try sending a card to a nursing home or hospital simply addressed to "Someone Who Needs a Smile." Your children don't know what to color anymore? Have them decorate a heart to send off to a fire or police station to let these first responders know they are supported. Have your children help you make a list of people to thank and declare once a week Heart Day when you send off your handmade hearts to warm the hearts of others.
Do you wake up in the night, unable to sleep? How about saying a Divine Mercy chaplet for someone who is alone in the hospital fighting for their life or, better yet, someone who is about to meet Jesus. Your prayers are efficacious, they really work and are so needed!
Depressed by the negativity on social media? Try posting a Bible verse a day. Or simply ask people how you can pray for them today. There are people who will respond to you who may not ever respond to anyone else. Then do it, spend some time in prayer lifting up others.
They need you. We all need you. In a time of social distancing, we need each other more than ever. Not only that, but we are also called to it by God himself. Jesus promises that he would not leave us orphans. He sends us an advocate, the Holy Spirit. Through the power of the Holy Spirit, we will see Jesus now when we see him present in those around us, we see him in each other's suffering and joy.
So wherever you are, however you are coping with this pandemic, well done you. Today, take a deep breath and ask God to show you who he needs you to love today. Put him first and then let him show you who to love next.
You've got this. Matter of fact, you were born for this.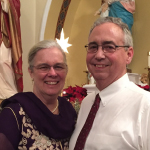 Sheryl delights in being the number 1 cheerleader and supporter for her husband, Tom who is a candidate for the Permanent Diaconate in the Diocese of Kalamazoo. They are so grateful for the opportunity to grow together in this process whether it is studying for classes, deepening their prayer life or discovering new ways to serve together. Sheryl's day job is serving her community as the principal for St. Therese Catholic School in Wayland, Michigan. Since every time she thinks she gets life all figured out, she realizes just how far she has to go, St. Rita of Cascia is her go-to Saint for intercession and help. Home includes Brea, a Bernese Mountain dog and Carlyn, a very, very goofy Golden Retriever.