I wish I could have a nickel for every time I've read a blog post, social media post, or news article that starts with "In these strange/uncertain times…" I would be a very rich woman. So, at the risk of sounding cliche…
In these strange times, I have found great comfort in the readings that seem truly timeless right now. In today's Gospel, we hear what Jesus tells the disciples at the Last Supper. He is telling them of what will occur in the days that follow: His Passion. He opens His discourse by saying, "Peace I leave with you; my peace I give to you. Not as this world gives do I give it to you". The difference between His peace and that of the world is that Jesus' peace consists of consolation in the knowledge that God is with us. Right now it seems to me that the world is offering us a lot of "peace": car commercials telling us that "we're in this together," news articles telling us how to "make the most of quarantine," social media posts telling us to not compare our experiences to others in order to "avoid anxiety." Every time I encounter this rhetoric, I feel like something is missing. It wasn't until reading today's Gospel that I realized what is missing in all those good-hearted messages: the peace that only God can give.
Even to his disciples, Jesus says to not be afraid because He knows they will grow fearful without Him. His words to his disciples ring true and striking today. He reminds them that He is going to Heaven to be with a Father. The comfort He offers the disciples is what we should take to heart as we persist through this trying time. God is with us now, just as He was with the disciples at the Last Supper. If we place our trust in Him, we will have peace, and our hearts will not be troubled.
Today we celebrate the Sts. Nereus and Achilleus, 1st century martyrs who converted to Christianity after being part of the Roman Army. Part of the epitaph for their tombs reads, "They suddenly gave up their savagery, they were converted, they fled the camp of their evil leader, throwing away their shields, armor, and bloody spears. Professing the faith of Christ, they are happy to witness to its triumph…understand what great deeds can be brought about by Christ's glory". May we, like Sts. Nereus and Achilleus, in our suffering, be happy witnesses of the joy of our faith. May we continue to recognize the certainty of Christ's glory amidst our feelings of uncertainty.
Sts. Nereus and Achilles, pray for us!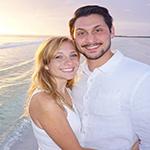 Dakota currently lives in Denver, CO and teaches English Language Development and Spanish to high schoolers. She is married to the love of her life, Ralph. In her spare time, she reads, goes to breweries, and watches baseball. Dakota's favorite saints are St. John Paul II (how could it not be?) and St. José Luis Sánchez del Río. She is passionate about her faith and considers herself blessed at any opportunity to share that faith with others. Check out more of her writing at https://dakotaleonard16.blogspot.com.