If I said that you (yes, YOU, reading this right now) could do more healings and bigger miracles than Jesus himself, what would you think? I'm crazy, right? Well, yes, but that's beside the point.
You might have missed it, but that's exactly what Jesus says at the end of today's gospel! First, he explained to his disciples that he had to go prepare rooms for them in his Father's house. The disciples, wanting to remain with him, asked how THEY might know the way there. Jesus announced that HE was the way (and the truth and the life) to the Father. When they asked to see the Father, Jesus confirms his divinity and explains that he and the Father are one. Didn't they get it? All the things he had said to them, all the miracles they had seen? Jesus finally adds this: "Amen, amen, I say to you, whoever believes in me will do the works that I do, and will do greater ones than these, because I am going to the Father." (Jn 14:12)
What??? Because of Christ returning to the Father (and sending the Holy Spirit), YOU who believe CAN and WILL do greater things than even he did on the earth. But how? The answer is actually in the rest of the readings and Mass prayers. Saint Peter writes in his letter, "Come to him, a living stone, rejected by human beings but chosen and precious in the sight of God, and, like living stones, let yourselves be built into a spiritual house…" (1 Pt 2:4-5) As the old saying goes, "the Church is not a building, it's a people." But we, these people, need to be built into a building, a spiritual house! Where Christ is the foundation, the cornerstone, the stone that builders rejected, we become like him, and take part in holding up this new building, the Church!
Saint Peter also says, "You are a chosen race, a royal priesthood…so that you may announce the praises of him who called you out of darkness into his wonderful light" (1 Pt 2:9). Well, surely he's only talking about our instituted priesthood, right? They're the ones responsible for doing God's work here on earth, right? No! You are the priesthood, and you are called to announce the good news! The Catechism says, "Christ, the high priest and unique mediator, has made of the Church a kingdom of priests for his God and Father. The whole community of believers is, as such, priestly" (CCC 1546). While our priests play a certain and important role in our lives (and our church buildings do too!), you and I are the ones called to create a better world, bring the light of Christ to the desperate, AND to do greater things in the name of Christ.
In the first reading, the early Christian community recognized a need for their widows. Instead of the Apostles going to handle this need, certain people of the community (who were filled with the Holy Spirit) were chosen and appointed to go and serve! What about our world right now? There are so many people, in our parishes or otherwise, that are deeply suffering right now because of Covid-19. I've seen depression, anxiety, addiction, financial struggle, and more. I've seen people in my life who were pillars of light get taken out by what's going on in the world. Should we leave pastoral care to the priests then? No! We all make up this Church, we all are chosen and appointed to go, and we were given a promise that we CAN and WILL do greater miracles than Christ. We all need to go and do our part! And when I say that, I don't mean just online or digitally (though great things are being done there!). I have seen great healing come in the simple act of giving a friend a phone call. I have seen relief come in the act of dropping off some food for a family in need. I have seen a parish so desperate for Christ, that they packed a parking lot just to see him.
With Jesus as the way/truth/life, YOU will see the Father and do GREATER miracles than him! YOU are a living stone of the Church, connected to the cornerstone. YOU are the priesthood, chosen by the high priest.
Reach out! Stay in prayer! Remember his promises! Lord, we lift up this prayer to you: "O God, who by the wonderful exchange effected in the Paschal sacrifice have made us partakers of the one supreme Godhead, grant, we pray, that, as we have come to know your truth, we may make it ours by a worthy way of life. Through Christ our Lord."
Song meditations based on the readings and theme:
Build My Life – Housefires
Greater Things – Mack Brock
Cornerstone – Hillsong Worship
The Way (New Horizon) – Pat Barrett
Christ is Risen – Matt Maher
The Father's House – Cory Asbury
So Will I (100 Billion X) – Hillsong United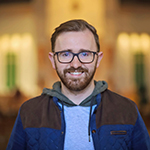 Brendan is just your average Millennial hipster: He likes playing guitar, throwing frisbees, sipping whiskey, and grooming his beard. But he also has a passion for walking with teens and young Christ-followers, hearing every person's story, and waking up the Church. Brendan works at Holy Trinity Catholic Church in Lenexa, Kansas (near Kansas City) as a Youth Music Minister, fusing together his two loves of sharing Christ and sharing the power and need for good and beautiful contemporary praise. https://www.instagram.com/brendanbeardo/