On May 13th, Nathalie and I celebrate the anniversary of when we got engaged, on the Feast of Fatima. For those who have followed our story, you know we got married on October 13th, the Feast of Fatima.
One of the reasons we stayed so close to Mary during these important moments is because of her example of service. When we got married we chose to wash each others feet instead of doing the typical garter and bouquet. We did this because we wanted to show the world that our marriage would be one of service, not only to each other but to the world.
It's always great to be hit with this reading again where Jesus washes the disciple's feet. It's good because it makes me contemplate whether or not we have kept that mission as a couple. Have we served whenever we could? Have we served each other and God? Obviously that is a complicated question. I think we certainly have tried our best, with some great moments of service and moments when we can try harder.
This is a reminder for me and I hope it is to you as well. Sometimes we make the faith super complicated and heady. it doesn't need to be. Are we serving? Jesus came and served. He was the master and put himself in the place of the servant. He gave us an example. Do we follow?
Especially in this world today, we need to serve. There is so much suffering, hurt, fear, anxiety, and worry. We can be the light to the world that goes out and serves without an expectation of getting anything back. All of us can grow in this area and that's my prayer for myself today. That I grow even more in service during this month of Mary and try to do it in the way she did. God Bless!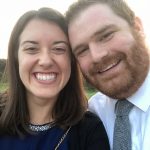 Tommy Shultz is Director of Evangelization for the North Allegan Catholic Collaborative and the founder of Rodzinka Ministries. In these roles, he is committed to bringing all those he meets into a deeper relationship with Christ. Tommy has a heart and a flair for inspiring people to live their faith every day. He has worked in various youth ministry, adult ministry, and diocesan roles. He has been a featured speaker at retreats and events across the country. His mission and drive have been especially inspired by St. John Paul II's teachings. Tommy is blessed to be able to learn from the numerous parishes he visits and pass that experience on in his presentations. With a degree in Theology from Franciscan University, Tommy hopes to use his knowledge to help all people understand the beauty of The Faith.