Today is the Feast of St. Mark the Evangelist, and we get to hear his words in today's Gospel. St. Mark's Gospel is characterized by his call to radical discipleship. Throughout his Gospel, St. Mark shows us how that radical discipleship and radical love for Christ leads to overwhelming, overflowing joy. St. Mark's Gospel is also the shortest of all four, so he does this in few words that are packed with love for our Redeemer and the desire for all people to become steadfast, joyful followers of Christ.
In today's Gospel, we hear the story of Jesus commissioning the disciples to the whole world. I love the word "commission" to describe this event. When you break it down, it becomes "co-mission." The disciples are entrusted with Christ's mission to bring the Good News to all people. Christ tells the disciples that those who believe will "..drive out demons, they will speak new languages. They will pick up serpents with their hands, and if they drink any deadly thing, it will not harm them. They will lay hands on the sick, and they will recover." After instructing the disciples to carry on His mission–a weighty and perhaps intimidating task–Christ reassures His disciples that He will continue to accompany them on the journey. The radical mission is filled with joy because Christ is not abandoning them. On the contrary, in the end, it will be Christ's signs that will aid the disciples in their mission of evangelization.
May we follow the example of Mark and become radical, joy-filled followers of Christ. May we preach the Gospel to all those we encounter, and may our joy serve as a witness to our faith.
O God, who raised up St. Mark the Evangelist and endowed him with the grace to preach the Gospel, grant, we pray that we may so profit from his teaching as to follow faithfully in the footsteps of Christ.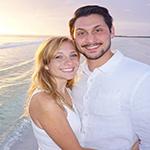 Dakota currently lives in Denver, CO and teaches English Language Development and Spanish to high schoolers. She is married to the love of her life, Ralph. In her spare time, she reads, goes to breweries, and watches baseball. Dakota's favorite saints are St. John Paul II (how could it not be?) and St. José Luis Sánchez del Río. She is passionate about her faith and considers herself blessed at any opportunity to share that faith with others. Check out more of her writing at https://dakotaleonard16.blogspot.com.