No matter how much we learn or study, no matter how refined our culture or advanced our science, these are still bound to earth and limited by our human limits. It is grace and the indwelling of the Spirit of God that free us and allow us to understand and judge with right judgment, to love freely, and to participate fully in all God desires for us.
In today's Gospel, Jesus says that "unless one is born from above, he cannot see the Kingdom of God," to which Nicodemus (who seems to take this literally) replies, "How can a man once grown old be born again? Surely he cannot reenter his mother's womb and be born again, can he?" Jesus explains, "Unless one is born of water and Spirit he cannot enter the Kingdom of God."
We have two "births" then: a physical birth from our mother's womb, and a spiritual birth from the baptismal font of Mother Church. It is this second "birth" that opens for us the door to the Kingdom of God. "What is born of flesh is flesh," Jesus says, "and what is born of spirit is spirit." Our physical eyes see the physical world; we need spiritual eyes to "see" the spiritual realities. It is necessary for us to be "born of water and Spirit" in order to participate in the life of the Spirit, which is the life of the Trinity – the Family of God!
How does this happen? It is mystery. As mysterious as the source and direction of the wind, but the effects are obvious in a person.
This is not to draw an artificial division between our flesh and our spirit, or make "spirit" the opposite of "body" – we are embodied souls, physical and spiritual! This is, rather, to help us see that we cannot remain simply on the level of the "flesh" but must turn our attention to our eternal souls; we cannot simply be content to take care of the body, but we must be attentive to the spirit. The Spirit Jesus speaks about comes "from above" and is sent by the Father: the Holy Spirit.
In the Holy Spirit, we are called and empowered to live IN Christ, not just near Him, not just next to Him. John's words at the beginning of his Gospel give insight to this: "But to those who did accept him he gave power to become children of God, to those who believe in His name, who were not born by natural generation nor by human choice nor by man's decision but of God" (Jn 1:12-13).
Is sacramental Baptism enough? To be born again in Baptism is the beginning, but we must continue to grow in wisdom and spiritual stature and in favor with God! Let's pray during this Easter season that God will complete the work He has begun in us and bring us to full maturity in the Spirit!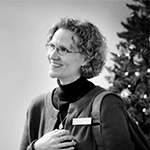 Kathryn Mulderink, MA, is married to Robert, Station Manager for Holy Family Radio. Together they have seven children (including newly ordained Father Rob and seminarian Luke ;-), and two grandchildren. She is a Secular Discalced Carmelite and has published five books and many articles. Over the last 25 years, she has worked as a teacher, headmistress, catechist, Pastoral Associate, and DRE. Currently, she serves the Church as a writer and voice talent for Catholic Radio, by publishing and speaking, and by collaborating with the diocesan Office of Catechesis, various parishes, and other ministries to lead others to encounter Christ and engage their faith. Her website is https://www.kathryntherese.com/.