Tomorrow marks a week since we mourned in memory of the death of Christ, our most holy sacrifice. Three days later, on Easter, we celebrated His resurrection, our savior rising from the dead!
Last year, I talked about how my friend never knew that Easter was celebrating Jesus' resurrection. He thought it was a celebration of his life since he had died and gone to heaven, as if it were a wake. If you remember, I actually had the joy of telling him that Jesus rose from the dead and seeing his shock, disbelief, and amazement.
This year, I watched the movie Risen with my family. The movie (watch trailer or here) is the death and resurrection from a Roman soldier's point of view. This premise reminded me a lot of my friend and what he must have felt when I told him.
I realized while watching the movie that his resurrection was the most radical and amazing thing to occur. Yes, Jesus died, as man does, but He then rose from the dead. He did not return as a zombie, but fully alive! He appeared in and disappeared from locked rooms. He continued performing miracles.
In the film, several of Jesus' followers are interviewed and instead of saying things like, "of course, he rose from the dead. He said he would," we see how joyous, calm, and faithful they are, even while being questioned. They smile and, filled with faith, they say that Jesus is everywhere and that their only weapon is love.
Y'all. Jesus rose from the dead!
He is our joy!
He is our peace!
He is our hope!
Yet while we sit at home, where is our joy? Where is our peace? Where is our hope? Where is our faith?
I ask this of you because I ask it of myself.
Being back at my parent's house came with hardships that I had forgotten about. It came with having to be patient with my loved ones. It came with the loneliness of being separated from my friends and the place I've come to call home. It came with having to forgive things that I have held on to, so tightly, for so long. It came with testing my spirit of service. It came with humility.
It also came with the bright Texas sunrises, the joy of family, the mix of music, laughter, and birds in the air, as well as the abundance of good food and good times.
There is a silver lining in the midst of these troubling times. There are praises to be sung for life, love, and family. Even in moments like these, we can still have our joy. We can be at peace. We can have hope. We can have all of this because of our Lord that has risen from the grave for each and every one of us.
If you have the opportunity, watch the movie Risen. Take the time to really reflect on the miracle that our religion is based upon. Re-find your faith.
Watch Risen on Vudu
Watch Risen on Amazon
Watch Risen on YouTube
Watch Risen on Google Play
Watch Risen on iTunes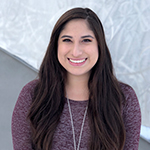 Veronica Alvarado is a born and raised Texan currently living in Michigan. Since graduating from Texas A&M University, Veronica has published various articles in the Catholic Diocese of Austin's official newspaper, the Catholic Spirit, and other local publications. She now works as the Content Specialist in Diocesan's Web Department.