I love the miracle in today's First Reading. I can just imagine the crippled man that Jesus healed through Peter jumping around whooping and hollering with a big old grin on his face.
He leaped up, stood and walked around, and went into the temple with them, walking and jumping and praising God. (Acts 3:8)
He had never used his legs before. He was crippled from birth. And just as a newborn colt learns to walk in its first few hours of life, this man was hopping around just moments after being healed.
Have you ever wondered what would have happened if Peter's declaration didn't work? What if he said "in the name of Jesus Christ the Nazorean, rise and walk" and the man wasn't healed? Would John have looked at him and said, "oh well, better luck next time!"? Or would John have tried to perform the miracle himself?
What do we do when God doesn't answer our prayers? It all comes down to faith and gift. Recall that Jesus healed when the person had great faith. We have to believe in Him. Really and truly BELIEVE. And understand that healing is a GIFT from Jesus, something He freely gives away because He chooses to. Just because He chooses not to heal us in the precise moment we ask Him to, doesn't mean He is any less God.
On the flip side, what do we do when He does answer us? Do we jump around and praise God in a child-like fashion, even interiorly? Or do we just mumble a quick thanks and take it for granted. "Well after all, He's God, He's supposed to give me every good thing." Are we filled with amazement and astonishment just like those who witnessed this miracle?
I can tell you from my own life, that I had a negative attitude after returning from missionary work in Mexico. I thought I was ready to get married and just assumed that God would immediately send me the perfect husband riding in on a noble steed. It took 11 years for God to answer my prayer. Perhaps my faith was shallow. Perhaps I had some growing up to do. But most of all, I lacked the understanding of gift. I expected God to give it to me out of a false sense of entitlement. Only after a broken heart and some huge lessons did God send me my heart's desire.
Just as He did to the disciples on the road to Emmaus in today's Gospel, I can almost hear Jesus chiding me: "How foolish you are [and] how slow of heart to believe!" It took so long for my eyes to be opened to my desperation and recognize that Jesus was there with me all along.
On this glorious day within the Easter Octave, let us allow our hearts to burn with in us because of our great faith in God. Let us recognize what a great gift the Resurrection truly is and proclaim together with all our brothers and sisters, "The Lord has truly been raised!"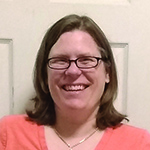 Tami grew up in Western Michigan, a middle child in a large Catholic family. She spent early young adulthood as a missionary in Mexico, studying theology and philosophy, then worked and traveled extensively before finishing her Bachelor's Degree in Western Kentucky. She loves tackling home improvement projects, finding fun ways to keep her four boys occupied, quiet conversation with the hubby and finding unique ways to love. She works at Diocesan, is a guest blogger on CatholicMom.com and BlessedIsShe.net, runs her own blog at https://togetherandalways.wordpress.com and has been doing Spanish translations on the side for almost 20 years.