Christ is risen! Halleluiah! We have waited a long time to say those words. This has been a tough Lent, but Christ is risen. The question is, now what?
Today we celebrate, but tomorrow there will still be a worldwide pandemic, there will still be anxiety and fear, there will still be difficult family situations, political agendas, addictions, sins, and suffering.
So why is that? Isn't the resurrection supposed to conquer all death? Here is where we come in. Have you let the resurrection and power of God take effect in your life. See, we are all supposed to allow the resurrection into our lives to experience its full power and bring that power into the world. God is not going to force his love and power on us, he wants us to freely accept it and share it.
Are you going to allow Christ to take your muck and gunk and sin and kill it so that you may rise? Are you going to trust that he has conquered all fear, anxiety, and hurt in you? Are you going to believe that his resurrection has just as much power now as it did two thousand years ago?
Check out this brief video reflection and Easter message. I hope it is a blessing to you and I hope you and your loved ones have a Blessed Easter!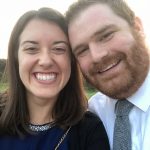 Tommy Shultz is Director of Evangelization for the North Allegan Catholic Collaborative and the founder of Rodzinka Ministries. In these roles, he is committed to bringing all those he meets into a deeper relationship with Christ. Tommy has a heart and a flair for inspiring people to live their faith every day. He has worked in various youth ministry, adult ministry, and diocesan roles. He has been a featured speaker at retreats and events across the country. His mission and drive have been especially inspired by St. John Paul II's teachings. Tommy is blessed to be able to learn from the numerous parishes he visits and pass that experience on in his presentations. With a degree in Theology from Franciscan University, Tommy hopes to use his knowledge to help all people understand the beauty of The Faith.