We mixed up our posts. This is the correct post for 4/3. God Bless!
---
I'm in my second week of shelter in place and remote work. It's taken me several days to get into a routine that allows me to be productive on the job. I have come to realize how much more I need to lean into God for support, for focus, and for inspiration. I have forgotten the acronym I learned during my days as a youth minister. FROG: Fully Rely On God.
I wasn't doing that at the beginning of the shelter in place order. I was too caught up in the juggling of assembling a remote setup for work, checking my cabinets for food and prescriptions, reaching out to family and friends, the slight panic and fear due to the quickly changing world events. My prayer was as similar as in my youth. It was scattered throughout the day, sure, but not in the routines I've come to rely on. The prayer routine that helps to keep me focused on God working in and through my life on a daily basis. (If you haven't developed a good prayer routine, now is a great time to establish one especially if you have some extra time in your days; see the resources below).
The verse before the Gospel today, "Lord, you have the words of everlasting life," has been in my mind since I began praying with these readings. The bible is our guide to the words of life, strength, love and hope.
Where I can really be challenged is in the words of today's Gospel. Jesus says, "believe the works, so that you may realize and understand that the Father is in me, and I am in the Father."
I know the Father is in me because of my reception of the Eucharist and my digesting (reading and listening to) His words in the bible. I get hung up on the above quote. Do my works (my deeds, words, and actions) reflect that the Father is in me, and I am an extension of the Father?
I am thankful for the examination of conscience at the beginning of Mass. I consciously try to remember to review my day as I lay my head on my pillow at night. I need to make note of what I have done and what I have failed to do while not beating myself up about my mistakes. That's why I need to FROG.
I also need to open my window in the evening, so I can hear the peepers. It reminds me that I, too, am a little voice in the wilderness, so very loved by God, my creator. He loves me and all the whole world.
Please pray with me the words below to help us remember to rely on Him this day and hopefully, each day going forward.
Serenity Prayer
God grant me the serenity
To accept the things I cannot change,
Courage to change the things I can;
And wisdom to know the difference.
Living one day at a time,
Enjoying one moment at a time,
Accepting hardships as the pathway to peace,
Taking, as He did, this sinful world
As it is, not as I would have it;
Trusting that He will make all things right
If I surrender to His Will;
So that I may be reasonably happy in this life
And supremely happy with Him
Forever and ever in the next.
Amen
Is There a Correct Way to Pray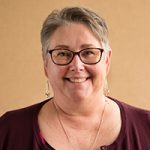 Beth is part of the customer care team at Diocesan. She brings a unique depth of experience to the group due to her time spent in education, parish ministries, sales and the service industry over the last 25 yrs. She is a practicing spiritual director as well as a Secular Franciscan (OFS). Beth is quick to offer a laugh, a prayer or smile to all she comes in contact with. Reach her here bprice@diocesan.com.