"Even though I walk in the dark valley, I fear no evil; for you are at my side."
Psalm 23 has to be the most well know psalm ever written. And how appropriate that it would show up as our Responsorial Psalm in today's readings. The world is traveling through a "dark valley" right now, wondering if it will ever find its way out. But I believe for many of us, the lack of Masses or any other Christian services is a dark valley in itself. We feel disconnected from our worshiping communities, and perhaps even from the Lord in the Eucharist. What we need to remember is that Our Lord does not distance himself from any of us, just because we can't gather in the church or any large group.
As with many of you, I have always had a great love for this psalm, and have always used it in times of trouble, sorrow, doubt, pain, loss, or illness. It gives comfort. It uplifts. It so beautifully tells us of a God who is always looking after us, always looking for us when we need him most.
As we fast approach Easter, with all services canceled, we may find ourselves feeling as if the church has abandoned us. When in any of our lifetimes have we experienced this? When? We haven't. And as with all uncharted territory, we are trepidacious in moving forward.
Open your bible to Psalm 23. Read it every day. Read it several times a day and let the words of comfort swell in your hearts and souls and then move on to the rest of your day. If you get a little down or feel somewhat claustrophobic, reread it. It will not, just as Our Lord will not, let you down.
"He guides me in right paths
for his name's sake.
Even though I walk in the dark valley
I fear no evil; for you are at my side
With your rod and your staff
that give me courage."
I wish all of you courage. Courage to move forward toward the far end of this dark valley that will soon open up to those verdant pastures of hope, comfort, and peace. All will be well!
God Bless.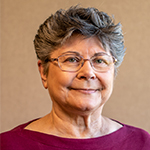 Jeanne Penoyar, an Accounts Manager at Diocesan, is a Lector at St. Anthony of Padua parish in Grand Rapids, MI. Jeanne has worked in parish ministry as an RCIA director, in Liturgy, and as a Cantor. Working word puzzles and reading fill her spare time. Jeanne can be reached at jpenoyar@diocesan.com.