One of my favorite books growing up was, "We Thought We Heard the Angels Sing." It's the heart-wrenching true story of a group of soldiers during WWII who were stranded on life rafts in the Pacific Ocean for weeks. Throughout the story, some of them die, some come very near to death, and some find God out there on those rafts. I always wondered what it would be like if you experienced something like that, but it never changed you on the inside. If your body came near to death and was miraculously saved, but it had no effect on your soul. I wondered if that was possible. This brought me to the thought that it would have been better to die out there lose to Jesus than to live without a relationship with Christ. This brings us to today's readings.
These readings speak about the beauty of resurrection, not only of the body but of the soul. We need this message of resurrection now more than ever. Lent is always difficult because it's a waiting period before we celebrate the resurrection of Christ. This year, Lent has been particularly difficult, as we hear and witness so much pain and suffering around us. With a massive pandemic like this, it's easy to ask for physical healing, but this is also a great time to ask the Lord how we need to be saved spiritually, how we need to be spiritually resurrected.
Most parishes are still offering confessions during this time, with proper social distancing measures in place. If we are willing to quarantine for weeks for the health of ourselves and others, how much more should we be willing to do for our souls? Maybe it has been a while since you have been to confession. Maybe it's a terrifying aspect of the faith to confess your sins to someone else. I don't know where you are at in your relationship with God, but I do know that we are given a chance to be made new at every confession we make.
If you are unable to make a confession during this time, then I encourage you to make a perfect contrition. Perfect contrition is where we ask God for forgiveness not because we are scared of hell, but rather, because we are sorry we have hurt God. This is a time that we can make sure we are healthy physically by taking necessary precautions, while also taking necessary precautions to make sure we are spiritually healthy as well. The closer we get to God during this time, the stronger we will be when we make it through.
I want to share this Youtube video of a song from the popular musical, "Dear Evan Hanson." I like to listen to the words as if God is singing to me. He wants to give us His mercy; we need only to ask. God Bless you during this time!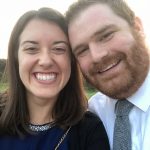 Tommy Shultz is Director of Evangelization for the North Allegan Catholic Collaborative and the founder of Rodzinka Ministries. In these roles, he is committed to bringing all those he meets into a deeper relationship with Christ. Tommy has a heart and a flair for inspiring people to live their faith every day. He has worked in various youth ministry, adult ministry, and diocesan roles. He has been a featured speaker at retreats and events across the country. His mission and drive have been especially inspired by St. John Paul II's teachings. Tommy is blessed to be able to learn from the numerous parishes he visits and pass that experience on in his presentations. With a degree in Theology from Franciscan University, Tommy hopes to use his knowledge to help all people understand the beauty of The Faith.