Everyone is on edge, nervous, even frantic. Everyone is concerned about what is going to happen next. Everyone is wondering what will be canceled next or what place will close next. There are no sporting events to watch and no restaurants to go to. As a coworker put it, "What's there to talk about?"
Please, please don't talk about THAT. I am so tired of hearing about it, reading about it and watching it. It's enough to worry about whether or not my family of six will have food to eat for the next month.
So instead of buying into the hysteria and the panic, I am on a mission to share positivity. What can our current situation teach us? What opportunities can it allow us? What things can we do that we normally wouldn't be able to? What do we now have time for that we otherwise wouldn't? What HASN'T changed?
First and foremost, our great God has not changed. Our First Reading today reminds us: "For what great nation is there that has gods so close to it as the Lord, our God, is to us whenever we call upon him?" Our God is ALWAYS with us, and we can ALWAYS call upon Him. He can grant us peace of mind when no one and nothing else can.
That is what we can learn from this. We can learn that when it comes down to it, the ONLY thing that matters is our relationship with God because we are never assured of a tomorrow.
But in the midst of this, while we still have breath within us, we have been given a great gift: the opportunity to spend more quality time with our families. Let's bust out those board games, dust off those books we've wanted to read for years now, pump up those bicycle tires, and get some good old vitamin D.
Let's have deep and heartfelt conversations with loved ones. Let's laugh like we never have before. Let's do our spring cleaning together this year. Let's watched the televised Mass and pray the rosary as a family. Let's not forget that what will carry us through this is prayer.
At my house this past weekend, we pulled out a large pad of MadLibs. (Remember those?) My 7-year-old and I were laughing out loud (for real), enjoying the silliness of sentences that made no sense. We imagined what a giraffe's long "armpit" looked like (instead of neck), and what it would be like to come home to a "smelly" house (instead of a cozy one). We played soccer outside and built castles with magnet toys inside. We made homemade lemonade and chocolate cake. We finally had time to work on potty-training my 3-year-old and saved numerous diapers.
There is always a positive side to the coin if only we look for it. No matter how our situation may change or how much our world appears to turn upside down, may we never cease to exclaim like the Psalmist: "Praise the Lord, Jerusalem" (insert here USA).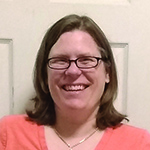 Tami grew up in Western Michigan, a middle child in a large Catholic family. She spent early young adulthood as a missionary in Mexico, studying theology and philosophy, then worked and traveled extensively before finishing her Bachelor's Degree in Western Kentucky. She loves tackling home improvement projects, finding fun ways to keep her four boys occupied, quiet conversation with the hubby and finding unique ways to love. She works at Diocesan, is a guest blogger on CatholicMom.com and BlessedIsShe.net, runs her own blog at https://togetherandalways.wordpress.com and has been doing Spanish translations on the side for almost 20 years.