It's March in Michigan and the sun is shining. The bright blue sky, the amazing lightness is almost a shock to the system. Somehow as winter ends, you don't really realize how much the clouds, the day to day living under the grey lack of light has impacted your psyche, your whole self all the way down to your toes. You don't realize it, until all of a sudden the sun returns, the world brightens and without even realizing it was weighed down, your heart feels airy and fresh.
In today's Gospel, Jesus is announcing a similar shock to the system. In a world where behavior is predicated on how others treat us or what we think we can get from them, Jesus turns everything around and shows us how we have been living in the lack of light.
You don't want to be judged? Then don't judge.
You don't want to be condemned? Then don't condemn others.
You want to be forgiven? Then forgive.
You desire gifts to be given? Then give gifts to others.
Not only will these things be given to you, they "will be given to you; a good measure, packed together, shaken down, and overflowing." Not only that, it will be poured into your lap! You don't have to go after it, it will come to you!
How? By giving to others. By forgiving. By refusing to judge. By refusing to condemn.
Here we are in the Second Week of Lent. We are called to fast. We have given up the stuff of this world, in order to make room in our hearts for the glory and love of the next world. Today's readings show us that we don't have to wait. We can have the beginnings of heaven, right here, right now. In the midst of our penance, our sorrow, our journey, Jesus tells us how to receive His love now. True love is not dependent on behavior or what others do, true love loves. Period. End of sentence.
Just like the spring sunshine lifts our hearts, Jesus's mercy lifts our souls. He loves us, fully completely. Not just us collectively, he loves you individually, fully, completely and totally. He sees you. He sees what you are willing to give up for him and no matter how meager, (seriously, what is my giving up added sugar compared to the immensity of eternity?). He takes what you give him and gives it back, good measure, packed together, shaken and overflowing.
So what are we being called to? As we proceed through Lent, through the Soup Suppers, parish missions, prayers, Stations, almsgiving and fasting, let's open up our hearts to the Father's love. It is a love so strong, so active, so personal and powerful that he became the personification of love by leaving heaven and dying on a cross. For you. For me. For every person we meet. We are called to conversion. We are called to step out into the "sonshine" and let it overwhelm us with the Father's love. That changes everything.
Lenten blessings to you all!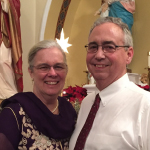 Sheryl delights in being the number 1 cheerleader and supporter for her husband, Tom who is a candidate for the Permanent Diaconate in the Diocese of Kalamazoo. They are so grateful for the opportunity to grow together in this process whether it is studying for classes, deepening their prayer life or discovering new ways to serve together. Sheryl's day job is serving her community as the principal for St. Therese Catholic School in Wayland, Michigan. Since every time she thinks she gets life all figured out, she realizes just how far she has to go, St. Rita of Cascia is her go-to Saint for intercession and help. Home includes Brea, a Bernese Mountain dog and Carlyn, a very, very goofy Golden Retriever.