Today is a very special day for our family. It is the first time we will be able to celebrate a birthday with a new family member we have just met. So many years that seemed lost are now being caught up in just a few months. Some of us wonder how we ever got along without her. We are amazed at her joy, her generosity and her drive. She has given us the impetus to better ourselves, to break through barriers and to achieve what we once thought impossible. Truly a ray of sunshine in our otherwise dull lives. Now we can rejoice on this day instead of wonder, celebrate instead of suffer.
In just a few days, we also celebrate my oldest son's birthday, the one who made me a mommy. I cannot even begin to tell you how long I waited for that day. After being a missionary in my late teens and early 20's, I just assumed that God would bring me a husband right away, since I had given these tender years to Him. Boy, was I wrong! I had to endure 11 long years of ups and downs, difficult lessons as a result of wrong decisions, mixed with plenty of travel, work experience and life-long friendships. Finally, God led me to the love of my life and less than a year later we were holding our first son in our arms. What an amazing and undeserved gift.
Realizing all I have received in these two people definitely make the words of the First Reading come alive: "you are to be a people peculiarly his own, as he promised you…you will be a people sacred to the Lord, your God, as he promised." (from DT 26) God has chosen to make me His own. He has chosen to love me in a peculiar, specific, singular way. He does not love me in the same way He loves anyone else. He does not shower the same blessings on me as He does anyone else. He loves me in the way my heart needs to be loved.
He loves me so much that I am sacred to Him. He holds me in a tender, delicate and holy way. And all of this is fulfilling His promise, His promise to never let me falter, lack or want. He did not promise there would be no suffering, but with that suffering there is always a lesson learned, or a good fruit that sprouts forth. He promises to love me and be with me always.
Lord, grant me the strength and conviction to always observe your statues, commandments and decrees. May I hearken to your voice so that I might walk in your ways and thus proclaim with the Psalmist: "Blessed are they who follow the law of the Lord!"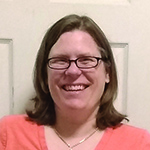 Tami grew up in Western Michigan, a middle child in a large Catholic family. She spent early young adulthood as a missionary in Mexico, studying theology and philosophy, then worked and traveled extensively before finishing her Bachelor's Degree in Western Kentucky. She loves tackling home improvement projects, finding fun ways to keep her four boys occupied, quiet conversation with the hubby and finding unique ways to love. She works at Diocesan, is a guest blogger on CatholicMom.com and BlessedIsShe.net, runs her own blog at https://togetherandalways.wordpress.com and has been doing Spanish translations on the side for almost 20 years.