I have been reflecting a lot about prayer lately. Is there a correct way to pray, a prayer that reaches God faster, a type of prayer that cuts through all the human imperfection and distraction and more easily puts us in the presence of God?
Of course, there is no one size fits all answer to how to pray; what form or method is used. I think there is, however, a one size fits all answer to the virtue we should have when we commune with God, and that is faith.
I think there are different levels of faith, obviously by simply praying, we are acknowledging that God is there and this in itself is an act of faith. But then you have faith like we hear Queen Esther had in the first reading. When was the last time you or I prayed with this kind of intense faith? I know for me it has been too long.
It's this level of faith that Jesus also talks about in the Gospel. He wants us to ask bold things of him; he wants us to expect miracles, aren't miracles exactly the sort of thing we should expect from God?
All too often, we put God in a box and say things like, "Well, he will either say yes or he will give you something else you need more." While there may be some truth to that, it disposes us immediately to doubt that God will answer the needs we have. We instantly think well what I am praying for may not be in God's will. But here we have Jesus telling us to ask, and we see the result of this faith in Queen Esther. During this time of Lent, let's be bold with God. Let's ask for big things and expect big things to happen. God Bless!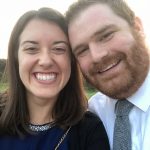 Tommy Shultz is Director of Evangelization for the North Allegan Catholic Collaborative and the founder of Rodzinka Ministries. In these roles, he is committed to bringing all those he meets into a deeper relationship with Christ. Tommy has a heart and a flair for inspiring people to live their faith every day. He has worked in various youth ministry, adult ministry, and diocesan roles. He has been a featured speaker at retreats and events across the country. His mission and drive have been especially inspired by St. John Paul II's teachings. Tommy is blessed to be able to learn from the numerous parishes he visits and pass that experience on in his presentations. With a degree in Theology from Franciscan University, Tommy hopes to use his knowledge to help all people understand the beauty of The Faith.