We probably say the Lord's Prayer at least once a day. These words are part of our Christian "DNA."But do we really KNOW what we are praying?
Father, "hallowed be THY Name." Not mine. I am not here to make a name for myself; I am here to glorify YOUR holy Name, a name the Chosen People dared not pronounce. You alone are holy, and I glorify Your holy Name.
"THY Kingdom come." I am here to do my part in YOUR Kingdom, to work to establish YOUR Kingdom, not build my own little fiefdom, not maneuver myself into a place of power or influence or adulation, not to be in control of things. The world is Yours, and I am here to help turn it toward You.
"THY will be done." I am here to do not MY will, but YOURS. Not just accept Your will, but to actively do Your will "as it is in heaven"…joyfully, promptly, perfectly. You make all things work together for good, You choreograph every step of ours, if only we sincerely resolve to seek and do Your will.
"Give us this day our daily bread." Give us today, Lord, all that we need for today. Give us our physical sustenance, our spiritual Food, provide for our psychological and emotional needs, give us the grace we need for this moment. We trust that You have always provided, You can provide, You will provide, because You are a good Father.
"Forgive us our trespasses," in Your great mercy, "as we forgive those who trespass against us." Your mercy is freely given, but it has metaphysical conditions for receiving it! Jesus tells us that IF we forgive others, the Father will forgive us. But if we do NOT forgive others, then the Father is, in some mysterious way, prevented from forgiving us. This is a deep mystery, as God's love IS mercy. And yet, if we refuse to forgive others, we are locked up inside a sealed box of resentment, and God's mercy cannot penetrate it from the outside. We have to release the latch from the inside! What a terrible freedom we have: our willfulness and determination to hold a grudge and refuse to forgive can even thwart the love and mercy of God Himself! But, on the other hand, if we willingly let go of our anger and resentment, God will forgive us freely and fully.
"Lead us not into temptation, but deliver us from evil." Guide our ways, Lord, so that we avoid occasions of sin, and keep us safe from the pervasive darkness. Free us from all that holds us down – our woundedness, blindness, attachments, confusions – so that we dance in the light of Your Spirit, trusting in Your Providence and Love! In this way, we will walk steadily in Your way, the way that leads to Your very Heart, our Home.
"For Thine is the Kingdom and the power and the glory, now and forever. Amen!"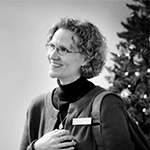 Kathryn Mulderink, MA, is married to Robert, Station Manager for Holy Family Radio. Together they have seven children (including newly ordained Father Rob and seminarian Luke ;-), and two grandchildren. She is a Secular Discalced Carmelite and has published five books and many articles. Over the last 25 years, she has worked as a teacher, headmistress, catechist, Pastoral Associate, and DRE. Currently, she serves the Church as a writer and voice talent for Catholic Radio, by publishing and speaking, and by collaborating with the diocesan Office of Catechesis, various parishes, and other ministries to lead others to encounter Christ and engage their faith. Her website is https://www.kathryntherese.com/.