Today's readings are all about being humble. The Gospel tell us to not worry about being the greatest, but rather to be as simple as children. I could attempt to wax eloquent on the subject, but who better to teach the lessons of humility than great writers, past and present. Here are some of the best:
"True humility is not thinking less of yourself; it is thinking of yourself less." (Rick Warren, The Purpose Driven Life: What on Earth Am I Here for?
"As long as you are proud, you cannot know God. A proud man is always looking down on things and people: and, of course, as long as you are looking down you cannot see something that is above you." C. S. Lewis, Mere Christianity)
"I have been driven many times upon my knees by the overwhelming conviction that I had nowhere else to go. My own wisdom and that of all about me seemed insufficient for that day." (Abraham Lincoln)
"True humility does not know that it is humble. If it did, it would be proud from the contemplation of so fine a virtue." (Martin Luther)
"Learning to believe you are magnificent, and gradually to discover that you are not magnificent: enough labor for one human life." (Czesław Miłosz)
"Pride must die in you, or nothing of heaven can live in you." (Andrew Murray, Humility: The Journey Toward Holiness)
"Until you have suffered much in your heart, you cannot learn humility." (Elder Thaddeus of Vitovnica, Our Thoughts Determine Our Lives)
"The more humble and obedient to God a man is, the more wise and at peace he will be in all that he does." (Thomas ᾲ Kempis, The Inner Life)
"Don't accept your dog's admiration as conclusive evidence that you are wonderful." (Ann Landers)
"Humility is nothing but the disappearance of self in the vision that God is all." (Andrew Murray, Humility: The Journey Toward Holiness)
"Humility is nothing but truth, and pride is nothing but lying." (St. Vincent de Paul)
"You cannot exalt God and yourself at the same time." (Rick Warren)
"Our humility before God has no value, except that it prepares us to reveal the humility of Jesus to our fellow men." (Andrew Murray, Humility: The Journey Toward Holiness)
And, on this day before the start of Lent, a little humor to get you started:
"On the highest throne in the world, we still sit only on our own bottom."
–Michel de Montaigne, The Complete Essays
May your Season of Lent lead you closer to our Lord and nourish in you a humble spirit.
God Bless.
(Quotes taken from Goodreads: https://www.goodreads.com/quotes/tag/humility)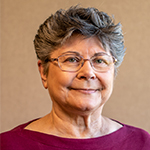 Jeanne Penoyar, an Accounts Manager at Diocesan, is a Lector at St. Anthony of Padua parish in Grand Rapids, MI. Jeanne has worked in parish ministry as an RCIA director, in Liturgy, and as a Cantor. Working word puzzles and reading fill her spare time. Jeanne can be reached at jpenoyar@diocesan.com.