The Responsorial Psalm for today is, "Who shall live on your holy mountain, O Lord?" Isn't that a question we ask ourselves pretty regularly? Maybe it's weird, but I often think about the people who are in Heaven (or who are not). Is Abraham Lincoln in Heaven? What about Martin Luther King Jr. or Rosa Parks? Marie Curie or Albert Einstein?
There are so many people who did a lot of good in the world that I often think, "There's no way they aren't in Heaven." There are a lot of people who affected the world negatively, and I think, "I wonder if somehow they renounced their evil deeds before they died and fully converted on their deathbed." After reading Psalm 15, I realized I don't have to ask those questions. I know exactly who is in Heaven: "He who walks blamelessly and does justice, who thinks the truth in his heart and slanders not with his tongue…who harms not his fellow man, nor takes up reproach against his neighbor…". We are told who is in Heaven and, in turn, we are told how we should act, how we should live our lives in order to join those who are already with our Father in His Heavenly Kingdom.
In yesterday's Gospel, we heard Christ reprimand the disciples because of their blindness. In today's Gospel, we hear of Christ, healing a blind man. Again we are reminded that only by seeing Jesus for who He truly is–the Son of the Living God who became incarnate to save us from our sins–that we are able to enter Heaven. Many times, like the man whom Christ heals, it takes more than one touch, more than one sign from God to convince us His presence in our lives. We need Jesus to work in our lives, and we need to recognize that work, in order to enter the Kingdom of Heaven. We cannot do it alone. We need our faith to guide us to become people who walk blamelessly and do justice, who think the truth in our hearts and do not slander with our tongues.
It is only through Christ that we are saved, and it only through faith that we come to know Christ.
As we prepare for the season of Lent may our prayer be, "May the Father of our Lord Jesus Christ enlighten the eyes of our hearts, that we may know what is the hope that belongs to his call" so that we may enter ever more deeply into the light of His love.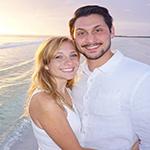 Dakota currently lives in Denver, CO and teaches English Language Development and Spanish to high schoolers. She is married to the love of her life, Ralph. In her spare time, she reads, goes to breweries, and watches baseball. Dakota's favorite saints are St. John Paul II (how could it not be?) and St. José Luis Sánchez del Río. She is passionate about her faith and considers herself blessed at any opportunity to share that faith with others. Check out more of her writing at https://dakotaleonard16.blogspot.com.