In Today's Responsorial Psalm, we hear that if the law of God is in your heart, your steps do not falter. It states that the LORD helps them and delivers us from the wicked and saves us because we take refuge in him.
In Today's Gospel, we hear Jesus say that "From within the man, from his heart, come evil thoughts, unchastity, theft, murder, adultery, greed, malice, deceit, licentiousness, envy, blasphemy, arrogance, folly. All these evils come from within, and they defile." Jesus is calling it all out today, and it is good that He does! He is sharing with us the importance of reflecting and examining the depths of our hearts and minds; it is there that the evils He listed can live. We must be careful to guard our hearts against these things but also to remember the Psalm today. How can we make sure our hearts do not fall into these temptations? By setting the law of the Lord in our hearts.
Is your heart rooted in His ways? Do you make a regular examination of conscience? If not, do so today. May each of us look at His commandments and see where we may be failing. Perhaps you haven't gone to confession in quite some time; maybe it is time to go and receive His mercy again. Let us remember that He helps and delivers us from evil; He saves us because we take refuge in Him. Be not afraid; He longs to give you His love and mercy today.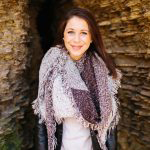 Briana is the Pastoral Minister at St. Mark Church in Cleveland, OH. She is also a district manager at Arbonne. She received her Bachelor of Arts in Theology and Catechetics from the Franciscan University of Steubenville, OH and is excited to use these skills to serve the Church. "My soul has been refined and I can raise my head like a flower after a storm." -St. Therese