In the Gospel reading today, we hear of two miraculous occasions of healing. The story begins with a father seeking out Jesus for the healing of his daughter, who is at the point of death. Immediately, he falls at the feet of Jesus and states that if Jesus lays His hands on her, she will be healed and live. As Jesus goes with him, He travels among the crowds. A woman who had been suffering from a hemorrhage for 12 years had heard about Jesus and believed, "If I but touch his clothes, I shall be cured." She reached out and touched His cloak and immediately was healed. Jesus asked who had touched his clothes, and the woman fell down before His feet and told him the whole truth. Jesus said to her, "Daughter, your faith has saved you. Go in peace and be cured of your affliction". A man comes to tell the father that his daughter has passed away. Jesus assured him, "Do not be afraid; just have faith." He goes on to enter the house and tells his daughter, "Talitha Koum," which means "Little girl, I say to you, arise!". She arose immediately.
Throughout this Gospel, we encounter witnesses of great faith. The young girl's father automatically proclaims great faith in seeking Jesus and believing He could heal his daughter. He most likely has never met Jesus before but has heard of him. He doesn't come before Jesus with a lukewarm question of, "Can you try to heal my daughter?" No, He believes with his whole heart that He can do this. The same goes for the woman suffering from a hemorrhage, she had not met Jesus, but had heard of Him and believed in His power that even touching his cloak, she would be healed.
I was sharing with a friend about this Gospel, and we discussed, "Why doesn't God do this still today?" We hear tons of tragedies that happen day in and day out. Why doesn't Jesus just miraculously heal people now? Honestly, I'm sure there are many healings that have happened for people throughout the world, and it does still happen today. But why does God spare some and not others? I don't know, but I believe we must hold to faith and trust like those in the Gospel today. Falling at the feet of Jesus with faith and trust, that those we have lost may arise too. That they arise to new life with Him, in the ultimate destination, life everlasting.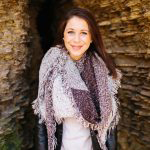 Briana is the Pastoral Minister at St. Mark Church in Cleveland, OH. She is also a district manager at Arbonne. She received her Bachelor of Arts in Theology and Catechetics from the Franciscan University of Steubenville, OH and is excited to use these skills to serve the Church. "My soul has been refined and I can raise my head like a flower after a storm." -St. Therese