If your mother was seeking you, came looking for you, sent word that she was outside waiting for you, your response would be anything but, "Who is my mother?" as if you had never met her. Yet that is how Jesus responds when he receives word that his mother and relatives are waiting outside for him: "Who are my mother and my brothers?"
This is certainly not because Jesus doesn't know his mother, or disrespects her in any way. On the contrary, he knows Mary better than anyone ever can, his relationship with her is closer than anyone else's, and he loves her more deeply than anyone ever will!
But Jesus never misses an opportunity to teach what the Kingdom is about and what his Heart desires; so, when informed that his family is looking for him, he takes the opportunity to say something startling: Family? You are my family. We are ALL called to be known and loved by him, to live in close relationship with him, to be members of the very family of God. Jesus tells us that "whoever does the will of God" enters into this relationship of love and belongs to this family. We, whose sins are responsible for nailing Jesus to the Cross, are invited into intimate relationship with him. If we are committed to the will of God, sinful as we are, we are loved by Jesus as much as his own mother!
In a way, Jesus is pointing to the truth that Mary is beloved not just because she is his biological mother, but because she did the will of God in loving obedience; she is the first disciple, the one who believed, whose loving and obedient "yes" made the Incarnation possible. By looking to Mary, we can see the whole mystery of our redemption, from the Son's conception in her womb to our own conception in the womb of Mother Church, "until Christ be fully formed in us" (Gal. 4:19).
Mary encountered the Word of God, accepted it, assented to it, and never wavered, all the way to the Cross and beyond. Her whole life is summed up in her words at the Annunciation: "I am the handmaid of the Lord. Let it be done to me according to your word" (Luke 1:38). Later, Jesus taught us to pray: "Thy will be done" (Matt. 6:10).
When we keep God's commandments, we are loving Him (2 John 1:6, 1 John 5:3), but love is more than outward obedience; love is encounter, relationship, and union. Jesus tells us that if we do the will of God and not our own, we will know him and walk with him as closely as Mary and his relatives did. We are made BY Love, made TO love, made FOR Love. In keeping the commandments of love, we find the One Who IS Love, and our hearts and wills are one with His. This is the profound communion Jesus desires for each of us, right here, right now!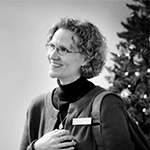 Kathryn Mulderink, MA, is married to Robert, Station Manager for Holy Family Radio. Together they have seven children (including newly ordained Father Rob and seminarian Luke ;-), and two grandchildren. She is a Secular Discalced Carmelite and has published five books and many articles. Over the last 25 years, she has worked as a teacher, headmistress, catechist, Pastoral Associate, and DRE. Currently, she serves the Church as a writer and voice talent for Catholic Radio, by publishing and speaking, and by collaborating with the diocesan Office of Catechesis, various parishes, and other ministries to lead others to encounter Christ and engage their faith. Her website is https://www.kathryntherese.com/.