Sometimes faith can be hard. We all know it, we have felt it, we have experienced times of desolation and consolation in our faith. The beauty about faith is that God is the one behind it. Sometimes we put faith on our own shoulders as if we just study enough or go to Mass every Sunday we will earn faith, but the reality is, similar to Grace, that faith is a free gift from the Lord that he wants to grant us through the power of the Holy Spirit.
This is the type of faith that John the Baptist had in the Gospel. I love how he says he did not know Jesus, but he prepared the way for him. Imagine that! In our world today we can experience Jesus in the Eucharist, we have the written word about his life, we have two thousand years of Church and historical history to fall back on and yet, faith is still difficult. John the Baptist had none of this and his faith was strong.
I think this is because we all too often put too much stock in ourselves. Thoughts like, "I have faith through my own power or knowledge or I gained MY faith of my own accord." It doesn't need to be that complicated or coated in pressure. Faith is a free gift. Let's not be afraid to ask for it.
I think sometimes we have made the Holy Spirit into something that only comes around in sacraments and we have made God the Father into the angry God of the old Testament. Most of us relate better to Jesus. But the reality is that Jesus was revealed to John the Baptist by the Father and confirmed to him through the power of the Holy Spirit. It was the first and third persons of the Trinity who taught him faith. So if you struggle in your Christian walk, if you struggle in your life with Christ, if you struggle with faith, don't forget to ask God the Father to reveal Christ to you and for the Holy Spirit to confirm that relationship in your heart. Be blessed!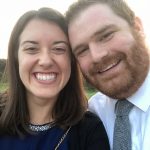 Tommy Shultz is a Solutions Evangelist for Diocesan. In that role, he is committed to coaching parishes and dioceses on authentic and effective Catholic communication. Tommy has a heart and a flair for inspiring people to live their faith every day. He has worked in various youth ministry, adult ministry, and diocesan roles. He has been a featured speaker at retreats and events across the country. His mission and drive have been especially inspired by St. John Paul II's teachings. Tommy is blessed to be able to learn from the numerous parishes he visits and pass that experience on in his presentations. Contact him at tshultz@diocesan.com.