Today marks the last day of the Christmas season, where we celebrated the birth of Christ, and the Baptism of the Lord, where we celebrate new life in Christ.
There is so much beauty in new birth and then, of course, new birth in Christ, but quite often, I think we can forget the power of baptism. I know for me, being baptized as a child, it was hard to know the power because I don't remember the actual moment.
This is why I recommend two things. First, is to look up your baptismal day. This is a special moment where you entered into the body of Christ and became an adopted son of God the Father. The parish you were baptized in will have a record of this, give them a call and find out when you were made new. Celebrate this every year, similar to a birthday. Do something special or be with Jesus in adoration.
Second, don't treat your baptism as a one and done moment. The Franciscans always preach constant conversion, where every moment is a moment for more grace. When was the last time you asked the Holy Spirit into your life? Baptism in the Spirit is not some magical ceremony between you and God; it is simply asking for the grace of your baptism to be increased through the power of the Holy Spirit.
I have noticed in my own life that when I am more aware of baptismal grace working, and I am consistently asking for it, I am much closer to God and am able to see his plan in my life more clearly. More information on the Holy Spirit and Baptism in the Spirit can be found at https://thewildgooseisloose.com/series-segments.
This series was life-changing for me because it is an easy way to start opening up more and more to the Holy Spirit and His power in our life. May God bless you abundantly during this new season of Ordinary Time!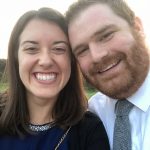 Tommy Shultz is a Solutions Evangelist for Diocesan. In that role, he is committed to coaching parishes and dioceses on authentic and effective Catholic communication. Tommy has a heart and a flair for inspiring people to live their faith every day. He has worked in various youth ministry, adult ministry, and diocesan roles. He has been a featured speaker at retreats and events across the country. His mission and drive have been especially inspired by St. John Paul II's teachings. Tommy is blessed to be able to learn from the numerous parishes he visits and pass that experience on in his presentations. Contact him at tshultz@diocesan.com.