"Faith lifts the soul, Hope supports it, Experience says it must and Love says…let it be!" – Elizabeth Ann Seton
Elizabeth Ann Seton is the saint that we remember today. She is the first American to be canonized, she converted to the Catholic faith 16 years before her death, and she opened Catholic schools in America. She lived a life of abandon to God's will, something of which she lived by on a daily basis. When I think of her story, which has an abundance of content beyond what I am able to write about today, I see a woman that was filled with a charism of faith. She had a radical trust in God's will for her life, and she followed Him to the ends of the earth.
How do we live this life of radical trust in God's providence so that we are able to take risks? First we must remember who God is – He is constant and will never change. His love endures, His promises hold true, and His goodness reigns above all no matter what. The next step in trusting in God's providence, is looking back on all God has provided up to this point. While we have faced hardships, He has and will bring us out on the other side of the tunnel. Finally, prayer as a means of conversing with God will allow us to trust Him more because we will get to know Him more, and clinging to the sacraments will help us to see God for who He truly is (and not what we try to make Him in our own heads).
I encourage you to read the story of Elizabeth Ann Seton – it is remarkable and a true inspiration for our times. Don't be afraid to go against the grain and listen to God and His desires for your life.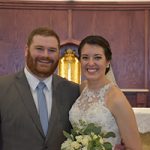 Nathalie Shultz is a joyful convert to the Catholic faith and a competitive swimmer with Obsessive Compulsive Disorder (OCD). She loves to share her passion for Catholicism with others, including her conversion story and how God continues to work miracles in her life through her OCD. She is the Director of Religious Education for the North Allegan Catholic Collaborative of parishes. Nathalie is married to her best friend, Tommy Shultz. Her favorite saints include St. Peter the Apostle, St. Teresa of Calcutta, and St. John Paul II. She is also a huge fan of C.S. Lewis. If you have any questions for Nathalie, or just want her to pray for you, you can email her at rodzinkaministry@gmail.com.