Nathalie and I have decided to do "Whole 30" to start the year. I made it clear that this meant I would be eating cheese whiz at some point today to celebrate that which I am losing, delicious processed foods. It is that time of year where we look at our lives and make resolutions to better ourselves. This week is the prime time to be a gym membership salesman or self-help coach, and it makes sense because we live in a culture that is consumed with self. This year though, I am going to try to make an effort to reach out to others with my resolutions.
I love the first reading today. What a beautiful blessing that God tells Moses to pray over Aaron and his family. Here we see that God wants us to bless others in his name, he wants us to ask that he would visit them and be with them, he wants us to care for others and bring them closer to him. Now we know that God already knows the struggles of all and is with them always, but here he is asking us to bless others through him. This is so important to the Christian faith. As we are all part of the body of Christ, we should all make an effort to care for the body and all its members.
God may not need us to tell him what is going on with others, but he wants to hear from us. St. Teresa of Avila once said, "You pay God a compliment by asking great things of him." Our prayers have power, or God wouldn't ask us to do it. Do we believe that? Fr. John Ricardo often talks about how God wants us to pray for and expect miracles. Do we believe in this power? I am sick of a faith that is just rules and regulations and feels like a Santa Claus like figure where when we are good, we are rewarded and are always being watched. While there are rules we must follow because Jesus has given them, he has also given power. That's a faith that should transcend boring rules and get us excited to live it out.
In this new year, it is essential to care for our bodies as we are temples of the Holy Spirit, but it is also of the utmost importance to care for the members of our body, the body of Christ. I challenge you to decide on one thing in 2020 that will help to bless other people. If you need some inspiration, here is the beautiful blessing from our first reading today.
"The LORD bless you and keep you! The LORD let his face shine upon you and be gracious to you! The LORD look upon you kindly and give you peace!"
From all of us here at Diocesan, God Bless and Happy New Year!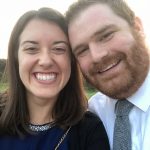 Tommy Shultz is a Solutions Evangelist for Diocesan. In that role, he is committed to coaching parishes and dioceses on authentic and effective Catholic communication. Tommy has a heart and a flair for inspiring people to live their faith every day. He has worked in various youth ministry, adult ministry, and diocesan roles. He has been a featured speaker at retreats and events across the country. His mission and drive have been especially inspired by St. John Paul II's teachings. Tommy is blessed to be able to learn from the numerous parishes he visits and pass that experience on in his presentations. Contact him at tshultz@diocesan.com.