Mary set out in haste and traveled to the house of Zechariah, where she greeted Elizabeth.
Let's try that again: Mary, carrying within her the Son of God, set out in haste to bring Jesus to the house of Zechariah, where she greeted Elizabeth. The older woman instantly felt the presence of God in Mary, and the child in her womb leaped for joy.
This is the image of the Christian. Blessed James Alberione, the founder of the Daughters of St Paul, often told us that we were to be living Tabernacles who, like Mary, when she visited Elizabeth, bring Jesus to the world. We could imagine ourselves as a monstrance that exposes the world to Jesus, who is the world's Light shining within us.
You, too, are a living Tabernacle. At the end of every Mass, we are sent forth to bring the Good News we have heard and received and now carry within us. We are sent forth in haste to everyone with whom we will come in contact so that they will feel through us the living and loving presence of God-with-them, what Good News is ours to share with others! And today that can be quite a lot of people. Mary went straight to Zechariah's house. She wasn't documenting her trip on Instagram or posting on Facebook to thousands of friends and followers. But we do. We can bring Jesus to more than the person in front of us. We bring him to all we "meet" through social media. For everyone who encounters us through our digital "footsteps," we pray that they will encounter not us, but Jesus.
In the Christmas narrative, Mary presents Jesus to the shepherds who followed the angels' song to the stable, and to the Kings who found her Son by following a star. Her entire life was characterized by this manner of showing Jesus to others, by giving him away so that the world would have Light and Life.
So as we approach the end of our Advent journey and make our final preparations for Christmas festivities, let us take a moment today to imagine ourselves taking part in them with a Marian heart as a Tabernacle that quietly brings Jesus into others' presence. In situations both difficult and joyous, prepare yourself to radiate the quiet and steady Love-with-us in Christ that will warm the hearts of those you are with. It will be the greatest gift you can give them this Christmas.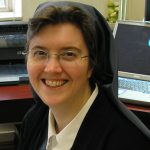 Kathryn James Hermes, FSP, is the author of the newly released title: Reclaim Regret: How God Heals Life's Disappointments, by Pauline Books and Media. An author and spiritual mentor, she offers spiritual accompaniment for the contemporary Christian's journey towards spiritual growth and inner healing. She is the director of My Sisters, where people can find spiritual accompaniment from the Daughters of St. Paul on their journey.
Website: www.touchingthesunrise.com
Public Facebook Group: https://www.facebook.com/groups/srkathrynhermes/
For monthly spiritual journaling guides, weekly podcasts and over 50 conferences and retreat programs join my Patreon community: https://www.patreon.com/srkathryn.