One of my favorite things about St. Joseph is the fact that he never speaks in Scripture, yet we can learn so much about the man he was. In today's Gospel, we can learn a great deal about the integrity of his character, the strength of his faith, and his will of obedience.
One of the first facts we learn about Joseph is that he is a righteous man, meaning he is virtuous. He does what is right, even when it is hard. We are told of his righteousness in regard to his decision to quietly break off his engagement with Mary. It states in Scripture that he was "unwilling to expose her to shame." For context, the shame the author is referring to does not mean the shame one might have today of embarrassment or gossip. Historically, if a woman of their time was pregnant outside of marriage, it meant death. Mary would have been stoned to death, and yes, she knew that when she said yes to bearing Jesus. The mere fact that Joseph was deciding to leave her quietly was to protect Mary and the child's life. What love he must have had for Mary, that he wished no harm upon her.
We learn that an angel of the Lord appeared to him in a dream and told him not to fear taking Mary as his wife and into his home. This shows us that perhaps Joseph was scared to do this, scared to take Mary as his wife when he didn't know whose child it was that she bore. I'm sure he experienced confusion and fear in this situation. The angel assures him not to fear and tells him the truth that the Holy Spirit has conceived this child within her, and he is to name him Jesus. Since Joseph was a good and faithful Jew, he probably knew the prophecy that "Behold, the virgin shall be with child and bear a son, and they shall name him Emmanuel." Joseph shows strength in his faith and obedience to God's will, for when he woke, "he did as the angel of the Lord commanded him."
I don't know about you, but St. Joseph inspires me. He inspires me in the call of trust. Like Mary, Joseph had to trust God completely. He had to trust that what he encountered in his dream was real and was God's will for him. He had to trust that he was called to be the foster father of Jesus, the husband of the Mother of God. He didn't say "why me?" or doubt. In the act of trust came his free will to choose. He chose to do as the angel commanded. Today, let us call up St. Joseph to guide us in integrity, trust, and obedience, to whatever God commands us to. May we know, like Joseph, that the Son of God, Emmanuel, is with us. May we welcome Him into our homes with trust and obedience, like St. Joseph.
St. Joseph, the Worker
St. Joseph, Husband of Mary
St. Joseph, Foster Father of Jesus
St. Joseph, Patron of the Dying
St. Joseph, Patron of the Universal Church
St. Joseph, Patron of Fathers
St. Joseph, Patron of Immigrants
St. Joseph, Illustrious Son of David
St. Joseph, Splendor of Patriarchs
St. Joseph, Chaste Protector of the Virgin
St. Joseph, Zealous Defender of Christ
St. Joseph, Most Pure
St. Joseph, Most Obedient
St. Joseph, Mirror of Patience
St. Joseph, Terror of Demons,
Pray for us!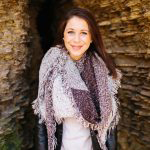 Briana is the Pastoral Minister at St. Mark Church in Cleveland, OH. She is also a district manager at Arbonne. She received her Bachelor of Arts in Theology and Catechetics from the Franciscan University of Steubenville, OH and is excited to use these skills to serve the Church. "My soul has been refined and I can raise my head like a flower after a storm." -St. Therese