Our liturgies for this Sunday take on a different tone than the first two Sundays of Advent. The vestments for Mass are rose instead of violet, and we light a pink candle to represent joyfulness in the middle of our waiting. We are reminded repeatedly to REJOICE! The Entrance Antiphon bids us to "Rejoice in the Lord always… Indeed, the Lord is near," and the opening prayer continues the theme by asking God to "enable us… to attain the joys of so great a salvation and to celebrate them always with solemn worship and glad rejoicing." The First Reading tells us, "the steppe will rejoice and bloom. They will bloom with abundant flowers and rejoice with joyful song" (Isaiah 35:2). We have reached "half-time" in our Advent preparation, and we are called to rejoice that the Lord is coming.
The Gospel for today focuses on John the Baptist, with Jesus answering the question about whether he is the "one who is to come" and then telling the crowd that "among those born of women there has been none greater than John the Baptist." John is the one sent to prepare the way of the Lord, the one who hoped in the Lord, who rejoiced in the Bridegroom and ultimately gave his life for the Truth. He is indeed a great prophet and more than a prophet.
But Jesus gives a surprising comment at the end: he says that "the least in the kingdom of heaven is even greater than" John! The least is greater. Jesus wants us to understand that his Kingdom is essentially unlike any other kingdom: of those who enter, the humblest will be most exalted in it! Our way of judging and rewarding is not God's way of judging and rewarding. Jesus came to turn the world's understanding upside down, to bring God's Light so that we can learn to see as He sees and to teach us to walk with him in our baptismal grace toward holiness and joy only God can give.
It is only because Jesus became one of us – a man like us in all things but sin – that we are enabled to become adopted sons and daughters of the Father, who is Love, and be lifted up into the eternal Kingdom of Christ.
This is why, even as we await the fullness of this Kingdom, the Church rejoices today, singing "Gaudete!"
He is near!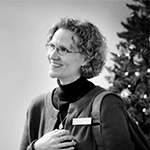 Kathryn Mulderink, MA, is married to Robert, Station Manager for Holy Family Radio. Together they have seven children (including newly ordained Father Rob and seminarian Luke ;-), and two grandchildren. She is a Secular Discalced Carmelite and has published five books and many articles. Over the last 25 years, she has worked as a teacher, headmistress, catechist, Pastoral Associate, and DRE. Currently, she serves the Church as a writer and voice talent for Catholic Radio, by publishing and speaking, and by collaborating with the diocesan Office of Catechesis, various parishes, and other ministries to lead others to encounter Christ and engage their faith. Her website is https://www.kathryntherese.com/.