Just this past week, I started my second time through the process of consecrating myself to Jesus through Mary. It has been so busy in my life, and I find myself gravitating towards our Lady, desiring the stillness and the obedience that she demonstrated in her life. I desire to be more like her every day and to ultimately fall more in love with Jesus.
Consecration to Jesus through Mary is a beautiful devotion and preparation any time of year, but I specifically chose this preparation during the season of Advent. As we prepare our hearts for the coming of Jesus on Christmas, prayer and time contemplating the fiat of Mary can truly help us to better open our hearts for our Savior.
There are many formats for Marian consecration to choose from. This year I am focusing on a particular text that focuses on prayer and scripture. The book is entitled Totus Tuus: Consecration to Jesus through Mary with Saint John Paul II by Fr. Brian McMaster. I encourage you to prayerfully consider consecration to Jesus through Mary. Our Lady is a gift from Jesus, and she will guide us closer to Jesus as we walk the journey of our time on earth. Trust in her intercession and know that a deeper devotion to Mary will automatically increase our love for Jesus. Even if you are not feeling ready to embark on the journey of consecration, be not afraid – God will show you the path He wants you to take all in His time, and this includes the ways in which He desires for you to love Mary more.
"Always stay close to this heavenly mother, because she is the sea to be crossed to reach the shores of eternal splendor."
– St. Padre Pio –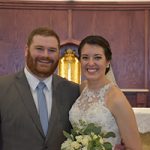 Nathalie Shultz is a joyful convert to the Catholic faith and a competitive swimmer with Obsessive Compulsive Disorder (OCD). She loves to share her passion for Catholicism with others, including her conversion story and how God continues to work miracles in her life through her OCD. She is the Director of Religious Education for the North Allegan Catholic Collaborative of parishes. Nathalie is married to her best friend, Tommy Shultz. Her favorite saints include St. Peter the Apostle, St. Teresa of Calcutta, and St. John Paul II. She is also a huge fan of C.S. Lewis. If you have any questions for Nathalie, or just want her to pray for you, you can email her at rodzinkaministry@gmail.com.