"The hunger for love is much more difficult to remove than the hunger for bread." – St. Teresa of Calcutta
Throughout today's readings, we hear of Christ's ability to fulfill our desires. We are told, again and again, that He is our greatest desire and that only Heaven–union with God–can bring true fulfillment. As Pope St. John Paul the Great said, "It is Jesus you seek when you dream of happiness; He is waiting for you when nothing else you find satisfies you." In this time of preparation for Christ, the readings remind us that our ultimate desire is oneness with our Savior.
The Gospel acclamation reminds us that the Lord is coming to redeem man, but we must be prepared for His coming. In the same way that the people in the crowd followed Christ along the Sea of Galilee, so too should we follow Christ. In the Gospel, Christ shows the crowd (and us) how much he loves us and how well he cares for us. He understands the needs of his flock and provides for those needs. Those who followed Him trusted that He could care for their spiritual needs. They trusted that, because of their faith, Jesus would make the mute speak, the lame walk, and the deaf hear. And so He did! The crowd followed Christ in order to tend to their spiritual needs and, in doing so, ignored their spiritual needs. But Jesus knows His people, and therefore, he tended to their material needs as well. He ensured that those who followed Him were fed and did not allow them to go away hungry. For this reason, Jesus comes to us in the Eucharist as bread; He satisfies our spiritual needs by satisfying our material needs.
In this time of Advent, as we prepare for the birth of our Savior, let us not forget that Christ has been preparing for us since the beginning of time. He has a place waiting for us at the banquet where He will welcome us home with open arms. May we welcome Him into our hearts and our homes, especially during this season, in the same way that He will one day lovingly embrace us.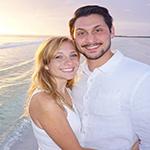 Dakota currently lives in Denver, CO and teaches English Language Development and Spanish to high schoolers. She is married to the love of her life, Ralph. In her spare time, she reads, goes to breweries, and watches baseball. Dakota's favorite saints are St. John Paul II (how could it not be?) and St. José Luis Sánchez del Río. She is passionate about her faith and considers herself blessed at any opportunity to share that faith with others. Check out more of her writing at https://dakotaleonard16.blogspot.com.