Here we are. We've made it. We are in a new liturgical year, a new season. Advent! The Lord is coming. He is drawing nigh. Our Savior, the adorable little Christ Child will soon be born. I don't have to ask myself if I'm ready yet, because the time of preparation has just started. We have 23 days to make the most of each and every day to prepare our hearts, the "home" of our being, for this incredible mystery. We are not ready for it today. We may not be ready for it on the 25th, but we sure can try.
I know I have posted before about living a simplified, less complicated, less stressful life. Let me tell you, with four active, LOUD boys, ages six and under, that is a very difficult feat. Even if I wanted to live quietly, decibels you may have never heard before occur at my house. Even if I wanted to live simply, the number of toys required to keep the four of them occupied create mountains in my home.
Yet there is one thing I can do, one aspect of my life I can still silence and simplify, my thoughts. I have noticed more and more lately how easily I criticize others, make jest, point out faults, or gossip. Even though I truly don't believe that I am perfect, somehow, I let the notion that I am better than others slip into my subconscious and then out of my mouth. Of course, I'm really not. I am just as good or bad as the next person, but boy, do I need a good dose of humility. If only I could keep my mouth shut. If only I could stop my mind from spinning so many negative thoughts.
So that is my Advent resolution that will spill over into 2020. I truly want to rejoice this Christmas, to see the good in others, and show goodness to others. I want the light of Christ to shine through me and flow into those around me.
I admit it has been a rough year with extremely tough issues in multiple facets of my life. They have angered me, upset me, saddened me, and I closed in on myself. I am still processing, still trying to make sense of it all, but in the meantime, I cannot put love and kindness on hold. I am a Catholic Christian and have to act accordingly.
Today's Psalm spurs me on and renews my hope. May they inspire you as well:
Because of my relatives and friends
I will say, "Peace be within you!"
Because of the house of the LORD, our God,
I will pray for your good.
Let us go rejoicing to the house of the Lord! [Or: Let us approach rejoicing, the birthday of our Lord!]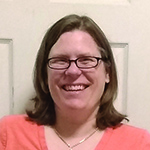 Tami grew up in Western Michigan, a middle child in a large Catholic family. She spent early young adulthood as a missionary in Mexico, studying theology and philosophy, then worked and traveled extensively before finishing her Bachelor's Degree in Western Kentucky. She loves tackling home improvement projects, finding fun ways to keep her four boys occupied, quiet conversation with the hubby and finding unique ways to love. She works at Diocesan, is a guest blogger on CatholicMom.com and BlessedIsShe.net, runs her own blog at https://togetherandalways.wordpress.com and has been doing Spanish translations on the side for almost 20 years.