I am intrigued by the readings leading up to the First Sunday of Advent. After celebrating the Solemnity of Christ the King, in which we hear the Gospel taking place at the crucifixion, the Gospels this week continue with a theme of destruction, persecution, desolation, and other heavy, dark images.
But Advent is a time of hope. A time of light and joy awaiting the birth of the Savior, Jesus. Why would this week leading up to Advent be in such stark contrast? Isn't that more geared toward the season of Lent?
Let us remember the reason why God became man, why Jesus came into the world. Adam and Eve were living in the state of original holiness, walking alongside God in the Garden of Eden. Created with free will, they failed to trust God and made a choice that led to the state of original sin instead. Humanity fell into sin and darkness, the consequences of which are death. Our relationship with God was broken, shattered, severed. There was no way we could reestablish this relationship on our own.
Wanting to reconcile man and woman, who were created in His image and likeness (Gen 1:27), God sent His only Son into the mess and chaos. Not only did Jesus show us how to live, but He also embraced death so that we wouldn't have to. Through His death and resurrection, the gates of heaven opened, and humanity is invited back into relationship with God.
You see, the hope of the resurrection begins with the hope at the Nativity, for which Advent prepares us. And there is no resurrection without there first being death. It is important to remember that connection as we enter this preparatory season. So as we prepare our hearts for the coming of the Lord Jesus at Christmas, may we always keep darkness in mind, for darkness is where light enters the world.
(Side note: I hope the line in the first reading "gave a great banquet for a thousand of his lords" gets everyone in the mood for tomorrow. Many prayers and blessings to all of you as you gather around the table for Thanksgiving with your loved ones, and may we carry this attitude of gratitude all through the coming liturgical season. However, may we also never forget those who go without on Thanksgiving and all days and heed the call to serve the poor.)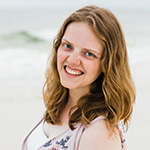 Erin is a Cleveland native and graduate of Franciscan University of Steubenville. Following graduation, she began volunteering in youth ministry at her home parish of Holy Family Church. Her first "big girl" job was in collegiate sports information where, after a busy two years in the profession on top of serving the youth, she took a leap of faith and followed the Lord's call to full-time youth ministry at St. Peter Church. She still uses her communication arts degree as a freelance writer and statistician, though. You can catch her on the Clarence & Peter Podcast on YouTube as well as follow her on Twitter @erinmadden2016.