I think sometimes we lose the depth of scripture because we have 2,000 years of theological insight and historical data to help us interpret what is being said. The beautiful then becomes commonplace, just another story we have heard over and over again. But put yourself in the place of the early Christians for just a second, or better yet, put yourself in place of the good thief on the cross.
Here, everyone is screaming for a sign. "If you are truly the Son of God, save yourself." These taunts seem very similar to those of Satan in the desert, don't they? Perhaps not a coincidence. The accusers get louder, and Jesus does nothing. The King of Kings and Lord of Lords lets it all happen. Now, of course, we know from 2,000 years of theological insight and because of the historical fact of the resurrection, that Jesus had a plan, but the good thief did not.
Let that sink in. Here is a man on death row who has heard some ramblings about Jesus but does not have a relationship with him. Here he is in his last moments, and what he sees with his eyes is that Jesus does not have real power, but what he knows in his heart is much different. Despite what it may look like or appear to be, God was working in this man's heart. He was allowing his heart to open enough to have expectant faith that what Jesus said in his public ministry for three years was all true. This leads to one of the most profound expectations of faith we hear in scripture, "Jesus remember me when you come into your kingdom."
Notice, this wasn't a question; It wasn't a plea for forgiveness; It was a cry of belief, of pure faith. It was this faith that saved him. The evidence was stacked against him, but he cried out with an expectation that God was who he said he was. The Church knows this reality when it comes to the Eucharist. The Eucharist is hard to believe in because it still looks like bread and wine. Even the Church has the famous line written by Aquinas, "Faith will tell us Christ is present when our human senses fail."
Could you imagine what would happen if every Catholic approached communion with this expectant faith? "God, everything around me is trying to say that you don't exist, and you don't care, but with your grace, I can open my heart and cry out AMEN!" The word amen actually means I believe. How often do we approach the Eucharist and either doubt God's power or just let it become commonplace like those 2,000-year-old Gospel stories? Let's all take a cue from the good thief and cry amen with expectant faith, that God is who he says he is, and he is truly present to us in the Eucharist. Give it a try. From all of us here at Diocesan, God Bless!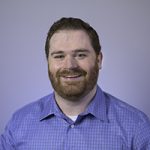 Tommy Shultz is a Solutions Evangelist for Diocesan. In that role, he is committed to coaching parishes and dioceses on authentic and effective Catholic communication. Tommy has a heart and a flair for inspiring people to live their faith every day. He has worked in various youth ministry, adult ministry, and diocesan roles. He has been a featured speaker at retreats and events across the country. His mission and drive have been especially inspired by St. John Paul II's teachings. Tommy is blessed to be able to learn from the numerous parishes he visits and pass that experience on in his presentations. Contact him at tshultz@diocesan.com.