Today's readings are pretty tough to swallow, being not only about hell but also about the end time and not knowing the precise moment. It is easy to look at these readings and be confused as to why we would not be told when Jesus will come for the second time. It seems that a loving God would tell us the exact date so we can get our things in order and prepare, but this gives us a window into one of the more profound truths about God.
Theologians over the years have talked about God being outside of time as we know it today. As Catholics, we call this the eternal now. That everything is present to God at all times. The past, the present, and the future are all known to him in every single moment because it is God who holds all of those moments in being.
This is hard for us to understand as human beings because it is so different from our experience of alarms, schedules, and age. But it's beautiful because it shows us that our time here on earth, our literal seconds ticking by, is just a drop in the ocean compared to eternity with God. Life might not be perfect, it might be incredibly difficult and filled with suffering, it might have its ups and downs, but we were not meant for this, we were meant for eternal bliss with God forever.
If God sees everything, past, present, and future, then on the cross as he was suffering for us, he was also suffering with us. He saw every suffering we would ever experience and experienced it with us to help us through it. He was already giving us the grace we needed to endure. Why do you think he sweat blood? That's a lot of pressure, the suffering of all people for all time being offered on the cross.
It may sometimes seem like God doesn't have a plan or doesn't care. There is a lot of suffering in the world. But God sees the whole picture. He sees that there is something beyond this world that we are made for. He sees that this world is not the end. He wants us to experience love not only for these ticking seconds on earth but for infinity and beyond. From all of us here at Diocesan, God Bless!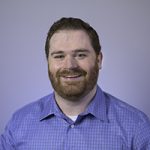 Tommy Shultz is a Solutions Evangelist for Diocesan. In that role, he is committed to coaching parishes and dioceses on authentic and effective Catholic communication. Tommy has a heart and a flair for inspiring people to live their faith every day. He has worked in various youth ministry, adult ministry, and diocesan roles. He has been a featured speaker at retreats and events across the country. His mission and drive have been especially inspired by St. John Paul II's teachings. Tommy is blessed to be able to learn from the numerous parishes he visits and pass that experience on in his presentations. Contact him at tshultz@diocesan.com.