Oh my goodness! We are quickly rounding into the middle of November. All Hallow's Eve passed in a flash, and immediately the Black Friday Christmas sales started. We are hearing all about how it is a "short" Christmas season. In a culture driven by getting what you want, it seems an entire season has been bypassed in sacrifice to the Christmas shopping list.
Recently I was listening to a friend as she shared how someone was struggling with not being able to forgive themselves for choices they made many, many years ago. As I listened to her, a part of my brain was so grateful to be Catholic. I am so grateful for the confessional and the sacrament of reconciliation and the mercy waiting for me there. I worked hard on just listening and responding with compassion, but I will fully admit, my heart wanted to scream out, "This is why I long and pray for you to find your way to the Catholic Church! Come with me, I will walk home with you." (She isn't ready to hear that, but I am confident that day will come!)
It isn't that Catholics are without fault and that we don't struggle with the mistakes of our past. Goodness knows we do! But God in his infinite wisdom, though Our Mother, the Church, has given us a structure, a framework to help us step outside our circumstances and become who he calls us to be, who he created us to be, to find forgiveness, and mercy, and grace.
I feel the same intense relief at being Catholic as I witness the current media hype over the shorter Christmas shopping season. Inside Mother Church, we are being reminded of how many reasons we have to be grateful. Our Lord, Jesus Christ is King of the Universe! We recall that when God formed man, in "the image of his own nature he made them." We live not for this world but for the next. Tis the season now to reflect on the world to come so that we are ready when Advent starts to prepare ourselves for the coming of the babe who will be crowned king. The truth is, there is no shortening of the time before Christmas. Through the Liturgical Calendar, Mother Church preserves the rhythm of the seasons and maintains to each season its own celebrations. So even though to the eyes of the world, we seem foolish and may even appear dead to the latest fad, we are in peace, the peace found in our Mother's arms at the foot of the Father.
So enjoy this season, continue to pray for those in purgatory, and be at peace knowing that our Mother will make sure that each season happens at exactly the right time.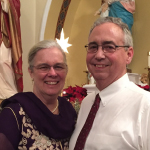 Sheryl delights in being the number 1 cheerleader and supporter for her husband, Tom who is a candidate for the Permanent Diaconate in the Diocese of Kalamazoo. They are so grateful for the opportunity to grow together in this process whether it is studying for classes, deepening their prayer life or discovering new ways to serve together. Sheryl's day job is serving her community as the principal for St. Therese Catholic School in Wayland, Michigan. Since every time she thinks she gets life all figured out, she realizes just how far she has to go, St. Rita of Cascia is her go-to Saint for intercession and help. Home includes Brea, a Bernese Mountain dog and Carlyn, a very, very goofy Golden Retriever.