In today's Gospel, Jesus informs us that those who are married here on earth will no longer be given in marriage in Heaven. He shares this information with the Sadducees as they asked Jesus whose wife a woman with seven husbands would be in the resurrection. Here, in Jesus' answer, we find our universal vocation. The vocation of communion with God in eternal life.
This story is beautiful as it reminds us of the ultimate goal of marriage, to get your spouse to Heaven! That is the whole purpose of the sacrament of matrimony and should be the foundation of marital love. This story also makes clear the beauty and superior vocation of Holy Orders/ Religious Life, men and women who have chosen to live out this reality here on earth — giving themselves body and soul to God, in full service of the Church. Jesus goes on to tell the Sadducees that God is "not God of the dead, but of the living, for to him all are alive."
St. Paul offers much comfort and encouragement in his letter to the Thessalonians in the Second Reading today. He reminds us of the Lord's love and grace that will "encourage your hearts and strengthen them in every good deed and word." How fitting for him to encourage us in this way. Each person's vocation, Holy Orders, Religious Life, Matrimony, or Single, are reminded that our deeds and words must be for God. He goes on to say that not all are faithful, but the Lord is. He encourages prayer so that the Lord may "strengthen you and guard you against the evil one. May the Lord direct your hearts to the love of God and to the endurance of Christ." Whatever your vocation is this day and whatever it may be in the future, may we all set our hearts on the universal call of holiness. May we receive the graces of strength and endurance as we fight for holiness with our eyes set on Heaven.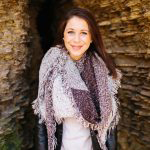 Briana is the Pastoral Minister at St. Mark Church in Cleveland, OH. She is also a district manager at Arbonne. She received her Bachelor of Arts in Theology and Catechetics from the Franciscan University of Steubenville, OH and is excited to use these skills to serve the Church. "My soul has been refined and I can raise my head like a flower after a storm." -St. Therese