Is Jesus a benevolent giver who wants to give you good things? Does He intend to pave your way and keep things running smoothly? Does He want everyone to be happy and get along?
Well, yes and no.
Jesus is not like a genie in a bottle, giving us the gifts we wish for. Jesus IS the Gift and the One Who wants to give us EVERYTHING. He sees all and knows all and has a plan for our lives that is far more awesome than our small imaginations can envision. He wants us to love and serve one another and to live in communion so that others are drawn by our loving faith.
But this all requires something on our part. In fact, receiving everything requires that we surrender EVERYTHING. In today's Gospel, Jesus tells us we have to hate our own family and our own life, that we have to carry our cross and give up all our possessions in order to follow Him as His disciples.
We naturally recoil from this kind of demand: How can we surrender everything, hate our own lives, carry our cross, and still be happy?
It's really just a matter of priorities. What do we value more than our relationship with Christ? We might say "nothing," but we all hold onto things that are not Christ. We all hold back, out of selfishness or woundedness or fear. For example, do we faithfully keep our Sunday obligation? Or are vacations and ballgames allowed to displace our Sunday Mass?
Do we share and witness our faith to our family and friends? Or do we keep our faith on the "down low" in front of other people because we fear being ridiculed?
Do we give generously to the Church and to others in the name of Christ? Or do we hold back on our giving because we want something for ourselves?
We are not called to actually hate anyone or ourselves, or to give away all our worldly possessions. What we ARE called to do is put Christ first, and be willing to let go of any relationships, habits, activities, and selfishness that we are holding onto. And sometimes, we don't know what we are holding onto until God asks us to let go of it.
God wants to give us everything, but if our hands are full – if we are not willing to let go of what is not Christ – we cannot open our hands (and hearts) to receive the gifts He longs to pour into us.
Jesus said, "My yoke is easy and my burden is light." (Matt. 11:30) What parts of our lives do not feel easy? What cross in our lives feels too heavy to bear? And how can we yoke ourselves to Christ so that we bear these things with Him, and learn that through them how He intends to give us every good thing?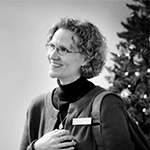 Kathryn Mulderink, MA, is married to Robert, Station Manager for Holy Family Radio. Together they have seven children (including newly ordained Father Rob and seminarian Luke ;-), and two grandchildren. She is a Secular Discalced Carmelite and has published five books and many articles. Over the last 25 years, she has worked as a teacher, headmistress, catechist, Pastoral Associate, and DRE. Currently, she serves the Church as a writer and voice talent for Catholic Radio, by publishing and speaking, and by collaborating with the diocesan Office of Catechesis, various parishes, and other ministries to lead others to encounter Christ and engage their faith. Her website is https://www.kathryntherese.com/.