"What comes into our mind when we think about God is the most important thing about us." (A. W. Tozer)
The first sentence in today's second reading would be enough. Because the reading goes on, we miss it. "If God is for us…" There. Stop right there….
Do you wake up every morning ready to proclaim, "God is FOR US! God is FOR ME!" How about this morning? Do you feel yourself backing away even now from such a proclamation? After all, the "anguish, distress, persecution, famine, nakedness, peril and the sword" that Paul later talks about might make us wonder if God is actually on our side. If he does in fact care about us.
Life beats us down, and in today's world, we can feel this weight of anxiety more than ever. But Paul cries out: "What will separate us from the love of Christ?" Not these burdens! No, he says, "in all these things we conquer overwhelmingly through him who loved us."
For if God is FOR US, nothing is as powerful as God. If God says he cancels the condemnation against us, then no one else can condemn us.
The stuff that scares you cannot separate you from this love of God that has been shown to us in Jesus Christ. Even as you carry your cross, you can proclaim the victory of the cross!
So what has happened to you, or someone you love, that's caused you to lose heart, to be swept away by the storm? Where do you feel abandoned? What have these done to your trust in God?
For many, many years following a serious illness, I questioned God's love for me. I even questioned God's very existence. I glowered at him from the back of the chapel while I was supposed to be praying (I'm sure God took that as a prayer….).
I never received a revelation or vision. I one day simply realized I was no longer thinking that way. In a very silent and hidden way, God had convinced my heart that he was there for me and that everything was okay. And I've never questioned it since. I have seen again and again that each of the unhappy events that have broken into my life have truly blessed it. It may have taken me years to be able to receive the blessing, but now I absolutely know that even when things are not okay, they are still okay.
My friend, God is FOR YOU! Every morning, wake up with this cry! In the words of the responsorial Psalm:
"I will speak my thanks earnestly to the Lord,
And in the midst of the throne I will praise him,
For he stood at the right hand of the poor man,
To save him from those who would condemn him."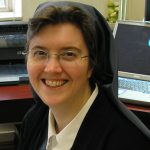 Kathryn James Hermes, FSP, is the author of the newly released title: Reclaim Regret: How God Heals Life's Disappointments, by Pauline Books and Media. An author and spiritual mentor, she offers spiritual accompaniment for the contemporary Christian's journey towards spiritual growth and inner healing. She is the director of My Sisters, where people can find spiritual accompaniment from the Daughters of St. Paul on their journey.
Website: www.touchingthesunrise.com
Public Facebook Group: https://www.facebook.com/groups/srkathrynhermes/
For monthly spiritual journaling guides, weekly podcasts and over 50 conferences and retreat programs join my Patreon community: https://www.patreon.com/srkathryn.