One of my co-workers, who I admire, gave a talk at our school the other day. He talked about endurance and told us the definition of endurance: to suffer patiently. I'd never thought of endurance that way before, and it really opened my eyes to what it means to endure something: to suffer through something patiently. As I thought about the readings for today, the word hope came to me. Hope is truly my favorite word in the world: "…we who have taken refuge might be strongly encouraged to hold fast to the hope that lies before us. This we have as an anchor of the soul, sure and firm…" (Hebrews 6:18-19). I think the author of Hebrews is telling the Jews the same thing Paul is telling the Romans in the first reading.
In the first reading, Paul speaks of the sufferings of the present time. Even though he wrote 2000 years ago, his words are still poignant in today's culture. The sufferings the Church endures today and the division we experience in our culture are "creation groaning in labor pains." Creation continues to await, with eager expectation, to be set free from slavery and to share in God's glorious freedom. We suffer patiently because we have hope in the resurrection. It is by placing our hope in Christ and by allowing hope to be the anchor of our soul, that we are able to endure, to suffer patiently through our present age.
This emphasis on hope is present in the Gospel as well. Christ tells a parable in which he compares Heaven to a mustard seed that grows into a large bush. In the same way that the small mustard seed was able to grow into a bush large enough to be home to many birds, so too has the Church grown. The Church started with one man, Jesus Christ, who sent a small group of men, the Apostles, into the world to spread the Gospel. Now, there are over 1.3 billion baptized Catholics in the world; 1.3 billion people call the Church "home." Our hope now is that the 1.3 billion of us will continue to spread the Gospel to all corners of the world.
May our present hope allow us to endure our present suffering with joy.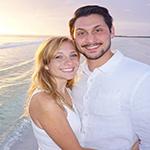 Dakota currently lives in Denver, CO and teaches English Language Development and Spanish to high schoolers. She is married to the love of her life, Ralph. In her spare time, she reads, goes to breweries, and watches baseball. Dakota's favorite saints are St. John Paul II (how could it not be?) and St. José Luis Sánchez del Río. She is passionate about her faith and considers herself blessed at any opportunity to share that faith with others. Check out more of her writing at https://dakotaleonard16.blogspot.com.