Psalm 1 always makes me think of Sr. Mary Augusta. For a number of years I sat next to Sr. Augusta in chapel and assisted her with finding the pages for community prayer in the Liturgy of the Hours. One Saturday morning, as we prayed Psalm 1, she turned to me with the most mischievous of smiles as we prayed this verse found in today's Responsorial Psalm:
"He is like a tree
planted near running water,
That yields its fruit in due season,
and whose leaves never fade."
You see, Sr. Augusta was a mere 98 years old that Saturday morning. And yes, her leaves "had never faded." She was young at heart. Happy. Blessed.
I wish I knew Sr. Augusta' secret formula. The moment she made the decision to flourish no matter what happened to her in life. Or maybe it wasn't a single moment, but a gradual deepening, letting go into greater freedom, as she pursued the Lord.
Both the second reading and the Gospel warn us that the fiery love of Jesus will demand a choice on our part,
a choice that has eternal consequences. As Paul puts it:
"For when you were slaves of sin, you were free from righteousness.
But what profit did you get then
from the things of which you are now ashamed?
For the end of those things is death.
But now that you have been freed from sin and have become slaves of God, the benefit that you have leads to sanctification,
and its end is eternal life. For the wages of sin is death,
but the gift of God is eternal life in Christ Jesus our Lord."
So let us, as Paul, consider everything else in our life to be rubbish compared with gaining Christ, with being found in him, taken up with his interests, living with his preferences, desiring him above all other things.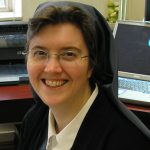 Kathryn James Hermes, FSP, is the author of the newly released title: Reclaim Regret: How God Heals Life's Disappointments, by Pauline Books and Media. An author and spiritual mentor, she offers spiritual accompaniment for the contemporary Christian's journey towards spiritual growth and inner healing. She is the director of My Sisters, where people can find spiritual accompaniment from the Daughters of St. Paul on their journey.
Website: www.touchingthesunrise.com
Public Facebook Group: https://www.facebook.com/groups/srkathrynhermes/
For monthly spiritual journaling guides, weekly podcasts and over 50 conferences and retreat programs join my Patreon community: https://www.patreon.com/srkathryn.