Not long ago, I was out for coffee with an acquaintance when an extremely overweight person was seated next to us—with some difficulty, because there wasn't quite enough room between the table and the bench to fit his girth. My companion sighed ostentatiously and made a bit of a show of moving over and giving the man more room, and my heart went out to him. He was so apologetic. He looked so miserable. And when, afterward, I asked my acquaintance why she'd responded as she did, she seemed surprised. "It's his fault for being fat," she said. "If he'd just buckle down and lose the weight, he wouldn't be such a freak."
"But you don't know," I said. "How can you blame him when you don't know his story?"
I couldn't wait to get away from her, to tell the truth, and as I was walking away there was a flurry of words that went through my mind. Sanctimonious, I thought. Judgmental. I resolved to see as little of her in future as possible.
It didn't occur to me until much later that I was guilty of the very things I'd accused her of. Because, while no, we didn't know his story, neither did I know hers. And it also occurred to me that it's precisely when we're accusing others of being judgmental that we're possibly the most guilty of it.
Saint Paul knew us well. You have no excuse, he reminds us. You have no excuse for judging others.
The truth is, God's the only one who knows what's behind other people's (or even, sometimes, our own) actions. And the irony is that being judgmental isn't even a behavior that serves us. We judge others because we need to feel better about ourselves. It may make us feel superior or secure in the short term, but the long-term stress of never feeling good enough can lead to a host of health issues. And that's without bringing Saint Paul into it!
I can't say how many times I've heard the advice of not judging others until you've walked a mile in their shoes—or, to be less picturesque, until you know their story, know what drives their behavior. How do you put yourself in someone else's shoes? I'm not sure I'm always able to do it, but one thing I've found helpful is this: imagine that person's reaction if you were to share your criticisms aloud. Consider how that person might feel, how hurt they'd be, if they heard you making judgments about them… and consider, also, what story they might offer to explain their situation.
You can even try making it a puzzle to solve. When you feel yourself looking down on someone else's decisions or behavior, on how they dress or speak, what they weigh, try imagining why. Maybe the guy who cut you off is rushing to pick up his kids because his boss wouldn't let him leave on time, not because (as you might be judging) he's a jerk. Perhaps that toddler is screaming because of a bad night's sleep, not because of bad parenting. Your story probably won't coincide with theirs, but it will make you consider what their lives are like, and… well, honestly, the word that comes to mind is mercy. Mercy is the opposite of judgment. Mercy is offering a clean slate.
And it's really clear that the times we live in demand mercy. As a culture, we're harsh and critical of others. All you need to do is read the news to see the growing tendency to analyze and criticize. We attack others through opinions, jokes, Facebook banter, and snarky gossip. We call names, label others, race to characterize (and make sure others know our thoughts!). It's a kind of public punishment for being different that we get to enforce. We launch toxic, crippling words as a way of inflicting harm. Mercy isn't a word in our daily vocabulary.
What Saint Paul is reminding us is that God uses both our being judgmental and our mercy (depending on which is more manifest) as the measuring rod of how he treats us. He will act with great mercy and forgiveness. But he will also show his justice and judgment when that's the path we take with others. "You have," Paul writes to the Christians in Rome, "no excuse."
The more you understand, the less likely you are to judge.
The difficulty we have here is there's something about judging and punishing others that feeds us, and our appetite is insatiable. When we stand as judge, jury, and executioner over someone else, it makes us feel superior and righteous. And the alternative doesn't give us the same feeling.
The alternative is mercy. It's seeking to reconcile, to restore, to renew. What's exciting about that? How does that make us feel better about ourselves? Yet the people of God are called to be merciful. We care called to be ministers of reconciliation.
Love is violent, make no mistake. But the violence of love is far different than the violence, whether spoken, physical, or psychic, that we dole out to others every day. The violence of love—a phrase used often by Saint Oscar Romero—is what we see on the cross. Jesus took the violence on himself. He didn't strike out at those who mocked him; he forgave them. Showed them mercy. Didn't judge.
This isn't about giving others a pass, or pretending everyone is okay. It's recognizing we're all broken, and afraid, and angry, and ashamed. This kind of love, this kind of mercy, causes the spiral of violence to cease.
If we're willing to imitate this kind of love, what we'll find is it's increasingly difficult to judge others. If we try the mirror first, if we can look at ourselves honestly and with the kind of mercy God shows us, then the tendency to judge slips away. "God," says Saint Paul, "shows no partiality." We might consider doing the same.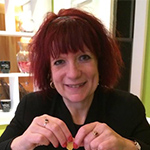 Jeannette de Beauvoir is a writer and editor with the digital department of Pauline Books & Media, working on projects as disparate as newsletters, book clubs, ebooks, and retreats that support the apostolate of the Daughters of St. Paul at http://www.pauline.org.